Saddam, aides boycott trial for second day
(Reuters)
Updated: 2006-07-11 15:39
BAGHDAD - Saddam Hussein and his lawyers again boycotted his trial on charges of crimes against humanity on Tuesday as a lawyer for a minor co-accused began summing up his case.

The former Iraqi leader's half-brother Barzan al-Tikriti, his former vice president, Taha Yassin Ramadan, and former Revolutionary Court judge Awad Hamed al-Bander and their lawyers were also absent from the court.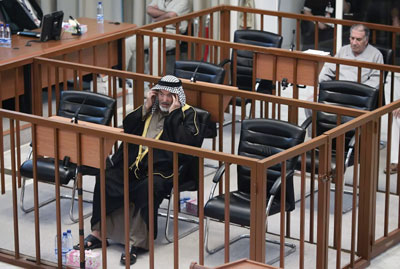 Abdullah Kadhem Ruaid (L), a former official in former Iraq's leader Saddam Hussein's ruling Baath party in Dujail, adjusts his headscarf as co-defendant, Ali Daei, a minor Baath party official from Dujail, watches during final arguments for their trial in Baghdad's heavily fortified Green Zone July 11, 2006. Saddam Hussein and his lawyers again boycotted his trial on charges of crimes against humanity on Tuesday. [Reuters]


Saddam's lawyers said on Monday they would boycott the toppled leader's trial unless their personal security was improved and a probe launched into the killing of a third member of the defence team.

U.S. officials say they have repeatedly offered security to the defence lawyers and their families but that this has been rejected. Chief defence lawyer Khalil al-Dulaimi has blamed pro-government Shi'ite militias for the killing of his deputy, who was abducted from his Baghdad home last month.

Saddam and seven co-accused are on trial for crimes against humanity for the killing of 148 Shi'ites following an attempt on Saddam's life in the town of Dujail in 1982.
A lawyer for Abdullah Kadhem Ruaid, a former official in Saddam's ruling Baath party in Dujail, told the court on Tuesday that his client had been unjustly accused.

Once final statements have been made, a five-judge panel is expected to adjourn to consider a verdict. Officials close to the court say a verdict on Dujail could come in September.

A death sentence may be delayed by appeals and the many other trials the toppled leader is likely to face for alleged crimes during his Sunni-dominated rule, most of them against the Shi'ites and Kurds now in power.

Saddam and his former top army commanders face a separate trial on August 21 on genocide charges stemming from the killing of tens of thousands of Iraqi Kurds in a 1988 military operation to force them from their villages.

Seven defendants including Saddam's cousin, Ali Hassan al-Majeed, or "Chemical Ali", will stand trial in the new case.