Two Chinese passengers were missing and another one got injured after a Russian Airbus plane veered off a runway and caught fire while landing in the Siberian provincial centre of Irkutsk, killing at least 140 people.
Wang Tiecheng from North China's Inner Mongolia survived the accident and suffered minor injuries, Xinhua News Agency reported.
Chinese diplomats in Russia were endeavouring to find the two missing Chinese, Xinhua said, but did not release their identities.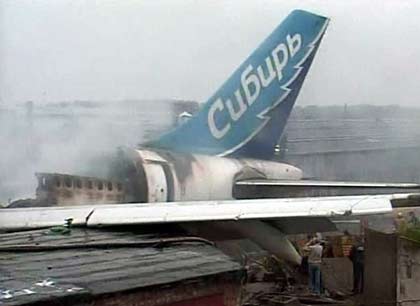 A video grab shows rescuers near the tail of an Airbus A-310 which crashed at the airport of Russia's Siberian city of Irkutsk on July 9, 2006. The Russian passenger plane carrying about 200 people, many of them holidaymakers, crashed during a domestic flight to Siberia on Sunday, killing most of those on board, news agencies said. [Reuters]
Between 200 and 202 people were on board the Sibir airline plane bound from Moscow, according to different officials.
"Forty-nine people are in hospital. Eleven people left the plane and walked away -- we are appealing for them to come back," an official at a crisis centre set up in Irkutsk told reporters.
A spokesman for the Irkutsk section of the emergency situations ministry said that 120 bodies had been recovered. The recovery of bodies was continuing, he said.
The incident occurred when the Airbus A310 careered off the tarmac during landing and crashed into a concrete wall close to airport buildings, bursting into a huge wall of flame, the emergency situations ministry said.
It was the second recent crash of an Airbus plane in Russia, after an Armenian Airbus A320 crashed into the Black Sea near Sochi in May killing all 113 on board.
Sunday's incident occurred at 8:00 am (2300 GMT Saturday) as the flight from Moscow's Domodedovo airport was landing in the city in central Siberia, five time zones east of Moscow.
Russia's Vesti 24-hour news channel broadcast images recorded on a mobile phone that showed flames and thick black smoke billowing from the fuselage of the plane.

"It was terrifying. People were shouting. People were on fire. I saw people on fire. Then I jumped out," said Margarita Svetlova, a young survivor interviewed on Russia's Channel One television station.
One witness said he saw survivors clambering out onto the plane's wing and walking from the scene, many of them suffering burns.
Fourteen children aged 12 and under, as well as 12 foreigners were on board the plane operated by S7 Airlines, until recently known as Sibir, said Russian news agencies.
The foreigners were two Azerbaijanis, two Belarussians, three Chinese, three Germans and two Poles, S7 said in a statement cited in news reports.
Also among the passengers was a group of children on their way to a holiday in the scenic Lake Baikal region near Irkutsk, reports said.
The passengers also included the head of the FSB security service for the Irkutsk region, General Sergei Koryakov, officials said.