Russian passenger plane crashed on landing in the Siberian city of Irkutsk early Sunday, killing around 150 passengers, Russian news agencies reported. Officials confirmed they have recovered 65 bodies.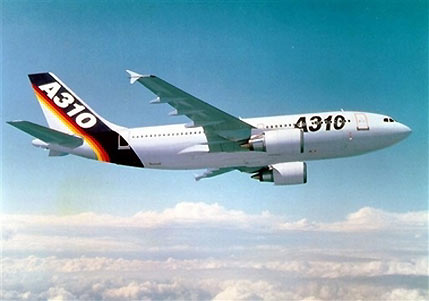 In this undated picture released by Airbus Industries one of its A310 passenger planes, the same type that crashed in Russia early Sunday, July 9, 2006, is seen flying somewhere in an undisclosed location. A Russian passenger plane burst into flames after it crashed on landing in the Siberian city of Irkutsk early Sunday, killing at least 118 people. Russian news agencies said the death toll could be close to 150. [AP Photo]
The plane, on a flight from Moscow to Irkutsk, veered off the runway as it was landing at about 7:50 a.m local time (2250 GMT Saturday), hit a concrete barrier and burst into flames, Emergency Situations Ministry spokeswoman Irina Andrianova said.
Russian news reports said that many children were among the passengers. They were traveling on vacation on Lake Baikal, which is near Irkutsk, the ITAR-Tass news agency said.
Rescue workers who were sifting through the wreckage of the aircraft so far had found 65 bodies, said another Ministry spokeswoman Natalya Lukash.
Russian television pictures showed the wreckage of the aircraft , which crashed into a one-story structure on the airport perimeter, with a plume of smoke pouring from it. Firefighters in protective gear and helmets clambered on top.
Lukash said that 55 people were injured in the crash. Most of the other passengers were feared dead, the Emergency Situations Ministry said.
The Interfax and ITAR-Tass news agencies reported that around 150 people had died, quoting a preliminary toll from the regional prosecutor's office and transport ministry.
The Sibir Airbus A-310 was carrying a crew of eight and 192 passengers.
"The aircraft veered off the runway on landing. It was traveling at a terrific speed," Andrionova said.
The plane hit a concrete barrier, collapsing the front section of the aircraft, she said. It then burst into flames.
It took five emergency services more than two hours to extinguish the flames, Andrianova said.
The Emergency Situations Ministry said there was no information yet about the likely cause of the crash.
Relatives of the passengers onboard the flight to Irkutsk were expected later Sunday to arrive at Moscow's Domodedovo airport where it took off from.
In May, another Airbus aircraft crashed in stormy weather off Russia's Black Sea coast while readying to land, killing all 113 people on board.
Airline officials said they believed the crash of the Armenian passenger plane was due to driving rain and low visibility.
Among other deadly crashes in Russia in recent years, in July 2001, a Tu-154 Russian passenger plane crashed and burst into flames in Siberia, killing all 143 people on board.
And in March, 1994, a half-empty Airbus A-310 belonging to Russian state airline Aeroflot crashed near the Siberian city of Novokuznetsk, killing 70 people.

Investigators said crash was caused mainly by the pilot's teenage son inadvertently disconnecting the autopilot.