A Japanese patrol boat is chasing a South Korean ship that entered disputed waters claimed by Japan early Wednesday, officials said.
The ship, which launched a maritime survey between the two countries on Monday, entered waters Japan claims as its exclusive economic zone at 6:41 a.m. It was intercepted by a Japanese patrol boat soon after, the Japanese Coast Guard said.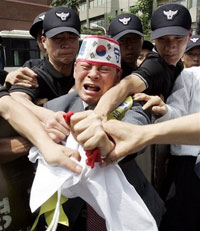 A South Korean protester is blocked by police officers as he tears Japanese flag during an anti-Japan protest in front of Japanese Embassy in Seoul, Monday, July 3, 2006. A South Korean ship remained off the coast Monday preparing for a mission to survey the waters around a string of islets held by Seoul but claimed by Japan, an official said, in a move likely to raise tensions with Tokyo. [AP]
The patrol boat used radio to order the South Korean vessel, the 'Haeyang 2000', to stop its activities immediately. But the vessel refused and is heading toward a set of disputed islets known as Dokdo in Korea and Takeshima in Japan, the Coast Guard said.
The Coast Guard is pursuing the Haeyang 2000, which appears to be escorted by a South Korean patrol ship. The survey boat's crew radioed the Japanese to say it was surveying South Korean waters and should not be obstructed, the Coast Guard said.
Japan and South Korea have long sparred over the ownership of the islets as part of a wider struggle to define their economic rights in the area. The islets are thought to be surrounded by rich fishing grounds and potential deposits of methane hydrate, a potent source of natural gas.
The tiny islets are about equidistant between Japan and South Korea. South Korea resents Japan's claim to the islands as a legacy of Tokyo's 1910-45 colonization of the Korean peninsula.
Under international law, each country has rights to explore and use marine resources within 230 miles from its shores. Japan and South Korea both claim the islands fall within their territory, thereby expanding their maritime zones.
In recent months, the neighbors have objected to each other's plans to survey the disputed waters, seeing such surveys as assertions of ownership.
Tensions flared in April when South Korea protested similar survey plans by Japan, sending gunboats to meet the Japanese survey fleet. Tokyo shelved the study after last-minute negotiations.
Japanese Prime Minister Junichiro Koizumi urged South Korea on Monday to cancel the survey and officials warned that Tokyo would counter any moves that encroach upon Japan's economic interests in the area.