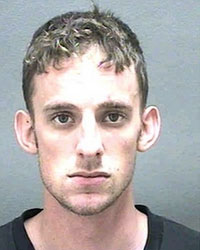 In this photo provided by the Mecklenburg County Sheriff's Office, Steven D. Green is shown in A booking mug shot at the Mecklenburg County jail in Charlotte, N.C., Monday, July 3, 2006. [AP]

A former soldier discharged because of a "personality disorder" was accused in federal court Monday of executing an Iraqi family so he and other troops could rape and murder a young woman they had been eyeing at a traffic checkpoint.

Steven D. Green, a skinny, 21-year-old former private, was led into court wearing baggy shorts, flip-flops and a Johnny Cash T-shirt. He spoke only to confirm his identity and stared as a federal magistrate ordered him held without bond on murder and rape charges that carry a possible death penalty.

Green became the first person identified in the latest case of alleged killings of Iraqi civilians by US troops, horrific deaths discovered in a burned house near Mahmoudiya in March that military officials initially blamed on insurgents.

According to a 10-page federal affidavit, Green and three other soldiers from the Fort Campbell, Ky.-based 101st Airborne Division had talked about raping the young woman, whom they first saw while working at the checkpoint. On the day of the attack, the document said, Green and other soldiers drank alcohol and changed out of their uniforms to avoid detection before going to the woman's house. Green covered his face with a brown T-shirt.

Once there, the affidavit said, Green took three members of the family, an adult male and female, and a girl estimated to be 5 years old, into a bedroom, after which shots were heard from inside.

"Green came to the bedroom door and told everyone, 'I just killed them. All are dead,'" the affidavit said.

The affidavit is based on interviews conducted by the FBI and military investigators with three unidentified soldiers assigned to Green's platoon. One of the soldiers said he witnessed another soldier and Green rape the woman.

"After the rape, (the soldier) witnessed Green shoot the woman in the head two to three times," the affidavit said.

Investigators also interviewed a fifth soldier, who was left behind to mind the radio at the traffic checkpoint. That soldier said Green and three others returned from the woman's house "with blood on their clothes, which they burned. Immediately after this, they each told (the soldier) that this is never to be discussed again."