Israel threatened Wednesday to widen the conflict over the abduction of one of its soldiers, sending thousands of troops into Gaza, arresting a Palestinian Cabinet minister and buzzing the summer home of Syria's president, who is blamed for harboring Hamas leaders.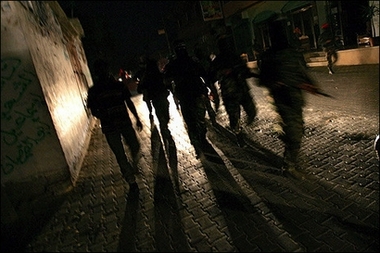 Palestinian militants patrol the streets of Jabalya refugee camp in northern Gaza Strip as Israel launched a ground and air assault on the Strip to rescue an Israeli soldier captured by Palestinian militants. The body of an Israeli settler kidnapped at the weekend by Palestinian militants was recovered overnight by Israeli troops in the West Bank city of Ramallah, Palestinian security sources said, without providing further details. [AFP]
No deaths or injuries were reported in the incursion, launched early Wednesday in southern Gaza. But Palestinians filled up on basic supplies after warplanes knocked out electricity, raising the specter of a humanitarian crisis. The Hamas-led government warned of "epidemics and health disasters" because of damaged water pipes to central Gaza and the lack of power to pump water.
Israel's concern goes beyond the rescue of the soldier and the negative precedent abducting soldiers would set. Israeli Prime Minister Ehud Olmert's government is alarmed by the firing of homemade rockets on Israeli communities around Gaza and support for Hamas in the Arab world, especially from Syria.
In a clear warning to Syrian President Bashar Assad, Israeli airplanes flew over his seaside home near the Mediterranean port city of Latakia in northwestern Syria, military officials confirmed, citing the "direct link" between his government and Hamas. Israeli television reports said four planes were involved in the low-altitude flight, and that Assad was there at the time.
Syria confirmed Israeli warplanes entered its airspace, but claimed its air defenses forced the Israeli aircraft to flee.
Increasing pressure on Hamas within the Palestinian territories, Israeli forces arrested the Palestinian labor minister, Mohammed Barghouti, early Thursday in the West Bank city of Ramallah, Palestinian security officials said. The Israeli military refused to comment, saying the operation was still in progress.
In Gaza, Israeli missiles also hit two empty Hamas training camps, a rocket-building factory and several roads. Warplanes flew low over the coastal strip, rocking it with sonic booms and shattering windows. Troops in Israel backed up the assault with artillery fire.
The area's normally bustling streets were eerily deserted, with people taking refuge inside their homes.
Witnesses reported heavy shelling around Gaza's long-closed airport, which Israeli troops took over. Dozens of people living near the airport fled to nearby Rafah.
In Rafah, Nivine Abu Shbeke, a 23-year-old mother of three, hoarded bags of flour, boxes of vegetables and other supplies. "We're worried about how long the food will last," she said. "The children devour everything."
There was no sign of ground troops moving into northern Gaza. But late Wednesday, the Israeli army dropped leaflets urging residents to avoid moving in the area because of impending military activity. Three gates in a border fence were open, in apparent preparation for the Israeli forces, and Israeli helicopters hovered at low altitudes.
Dozens of Palestinian militants - ed with automatic weapons and grenades - took up positions, bracing for attack.
Anxious Palestinians pondered whether the incursion, the first large-scale ground offensive since Israel withdrew from Gaza last year, was essentially a "shock and awe" display designed to intimidate militants, or the prelude to a full-scale invasion.
Olmert threatened harsher action, though he said there was no plan to reoccupy Gaza. Palestinian President Mahmoud Abbas deplored the incursion as a "crime against humanity."
Further complicating the situation were militant claims that they had kidnapped two more Israelis: an 18-year-old Jewish settler in the West Bank named Eliahu Asheri and a 62-year-old Israeli from the central Israeli city of Rishon Lezion. Asheri's mother confirmed her son was missing, and police said they had a missing person's report that matched the older man.
The Israeli assault came as diplomatic efforts to free the 19-year-old Israeli soldier, Cpl. Gilad Shalit, bogged down with Hamas demanding a prisoner swap and Israel refusing, demanding Shalit's unconditional release. Shalit was abducted by Hamas-linked militants on Sunday and is believed to be in southern Gaza.
"We won't hesitate to carry out extreme action to bring Gilad back to his family," Olmert declared.
Abbas and Egyptian dignitaries tried to persuade Assad to use his influence with Khaled Mashaal, the Hamas leader exiled in Syria, to free Shalit. Assad agreed, but without results, said a senior Abbas aide.
As for Mashaal, Israeli Justice Minister Haim Ramon said the hard-line Hamas leader, who appears to be increasingly at odds with more moderate Hamas politicians in Gaza, is in Israel's sights for assassination.
"Khaled Mashaal, as someone who is overseeing, actually commanding the terror acts, is definitely a target," Ramon told Army Radio.
Israel tried to kill Mashaal in a botched assassination attempt in Jordan in 1997. Two Mossad agents injected Mashaal with poison, but were caught. As Mashaal lay in a Jordanian hospital, King Hussein of Jordan forced Israel to provide the antidote in return for the release of the Mossad agents.
The European Union on Wednesday urged both Israel and the Palestinians to "step back from the brink" and, echoing a statement from Secretary of State Condoleezza Rice, to give diplomacy a chance.
The White House kept up its pressure on Hamas, saying the Palestinian government must "stop all acts of violence and terror." But the U.S. also urged Israel to show restraint.
"In any actions the government of Israel may undertake, the United States urges that it ensures that innocent civilians are not harmed, and also that it avoid the unnecessary destruction of property and infrastructure," said White House press secretary Tony Snow.
U.N. Secretary-General Kofi Annan urged restraint in a phone call to Olmert, saying he had spoken with Assad and Abbas and asked them to do everything possible to release the soldier. Arab League Secretary-General Amr Moussa called on the U.S. to assume its role as "honest broker" and to make the Palestinian-Israeli conflict its top priority in the Middle East.
Hamas' negotiators' tentative acceptance Tuesday of a document that Abbas allies claimed implicitly recognizes Israel appeared beside the point a day later, with Israel saying no political agreement can substitute for Shalit's freedom.
On Wednesday, Palestinian militants braced for a major strike, fanning out across neighborhoods, taking up positions behind sand embankments and firing several rockets into Israeli communities bordering Gaza. Civilians stockpiled food, water, batteries and candles after warplanes destroyed the coastal strip's only power plant, and main roads linking north to south.
Gaza's economy was already in the doldrums before the Israeli assault, a result of five years of Israeli-Palestinian violence and an international aid boycott that followed Hamas' parliamentary election victory in January. The Israeli assault threatened to turn a bad situation into a disaster - underscoring the extent to which hopes have been dashed following the optimism that accompanied Israel's pullout.
Palestinian plans for high-rise apartments, sports complexes and industrial parks in lands evacuated by Israel have given way to despair, with rising poverty, increasingly violent relations with Israel and a looming threat of civil war.