The world's second-richest man, Warren Buffett, became one of the world's biggest philanthropists Sunday with the announcement that he would bequeath the bulk of his roughly US$44 billion fortune to the foundation established by billionaire Bill Gates and his wife.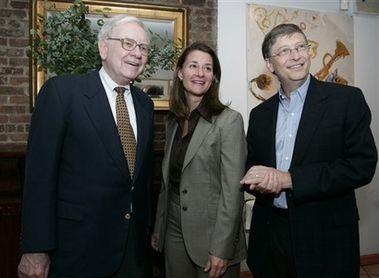 In this photo provided by the Bill & Melinda Gates Foundation, Warren Buffett, left, Melinda French Gates and Bill Gates stand together, Sunday, June 25, 2006, in New York, shortly after Buffett's announcement that he would be starting to make an annual donation of about $1.5 billion to the Bill & Melinda Gates Foundation. [AP]
The decision to start giving next month through annual stock donations represents a stark reversal for the investment wizard, who for years had said his wealth would be pledged to philanthropies after his death.
Buffett's gift will radically boost the resources of the Bill and Melinda Gates Foundation, which is already the world's largest philanthropy with assets of more than $29 billion.
Earlier this month, the world's richest man and Microsoft Corp. co-founder decided to give up his daily duties at the software company in 2008 to spend more time at his foundation, which is considered a leader in international public health, particularly in the fight against HIV, malaria and tuberculosis.
Gates also serves as a board member of Berkshire Hathaway Inc., Buffett's investment conglomerate, and the men socialize regularly.
The 75-year-old Berkshire chairman and CEO had been expected to leave his vast holdings of Berkshire stock largely to the Susan Thompson Buffett Foundation, begun by Buffett and his late wife. That foundation has given millions of dollars to hospitals, universities and teachers, as well as to Planned Parenthood and other abortion rights groups.
Buffett said he plans to give away 12,050,000 Class B shares of Berkshire Hathaway stock to the foundations, but he will have to convert some of his 474,998 Class A shares to complete the gifts. One Class A share, which sold for $92,100 on Friday, can be converted into 30 Class B shares, which sold for $3,071 Friday.
The gifts would be worth nearly $37 billion based on Friday's closing share price.
Buffett's assistant Debbie Bosanek said Buffett would not be available to comment Sunday. But letters outlining the gifts were posted on the company's Web site, and Buffett explained his decision in an interview with a Fortune magazine editor, Carol Loomis. She has edited Buffett's annual letter to shareholders for several years.
Buffett told Fortune that he decided to start giving his money away now because he has been impressed with Bill and Melinda Gates and the work they've done through their foundation. And he decided it would be easier to give to a large foundation instead of trying to expand his own foundation.
"What can be more logical, in whatever you want done, than finding someone better equipped than you are to do it?" Buffett told the magazine. "Who wouldn't select Tiger Woods to take his place in a high-stakes golf game? That's how I feel about this decision about my money."
Andy Kilpatrick, a stockbroker who wrote "Of Permanent Value, the Story of Warren Buffett," called the announcement remarkable, but said he always expected something more to develop from the relationship between Buffett and Gates.