BAGHDAD, Iraq - The US military recovered the bodies Tuesday of two missing soldiers from an area it said was rigged with explosives. An Iraqi official said the Americans were tortured and killed in a "barbaric" way.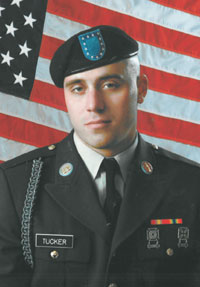 U.S. Army pfc Thomas Lowell Tucker, 25, is photographed in this undated Oregon Army National Guard photograph. Iraqi Defense Ministry official Major General Abdul Aziz Mohammed told Reuters June 20, 2006 that a joint U.S.-Iraqi force found the bodies of Privates Tucker, and Kristian Menchaca, 23, near an electricity plant in Yusufiya. [Reuters]

An insurgent group claimed the new leader of al-Qaida in Iraq executed the men personally, but it offered no evidence. The US military did not confirm whether the soldiers died from wounds suffered in an attack Friday or were kidnapped and later killed.

The discovery of the bodies dealt a new setback to US efforts to seize the momentum against al-Qaida in Iraq after killing its leader, Abu Musab al-Zarqawi, in a June 7 airstrike. Violence was unabated Tuesday, with at least 18 people killed in attacks nationwide, including a suicide bombing of a home for the elderly in the southern city of Basra.

Coalition forces spotted the American soldiers' bodies late Monday, three days after the men disappeared following an attack on their checkpoint south of the capital, the military said. But troops delayed retrieving the remains until an explosives team cleared the area after an Iraqi civilian warned them to be alert for explosive devices.

"Coalition forces had to carefully maneuver their way through numerous improvised explosive devices leading up to and around the site," the military said in a statement. "Insurgents attempting to inflict additional casualties had placed IEDs around the bodies."

Maj. Gen. William Caldwell said the bodies were found together in the vicinity of an electrical plant, which would be just a few miles from where the initial attack took place near the town of Youssifiyah in the volatile Sunni Triangle south of Baghdad.

Caldwell said the remains were believed to be those of Pfc. Kristian Menchaca, 23, of Houston, and Pfc. Thomas L. Tucker, 25, of Madras, Ore. The bodies will be flown from Kuwait to Dover Air Force Base in Delaware for positive identification through autopsies and DNA testing.

Menchaca's cousin Sylvia Grice said the soldier visited relatives in Texas last month but didn't talk much about the war.

"He wanted to go out and visit his friends," she said. "He wanted to eat a hamburger. He didn't want to sit down and talk about what was going on. But he was very proud of serving his country and he believed in what he was doing."

The director of the Iraqi Defense Ministry's operation room, Maj. Gen. Abdul-Aziz Mohammed, said the bodies showed signs of having been tortured. "With great regret, they were killed in a barbaric way," he said.