North Korea lashed out at the United States over its plans to build a missile defense shield Tuesday but did not directly address concerns that it is preparing to test-fire a missile capable of reaching the United States.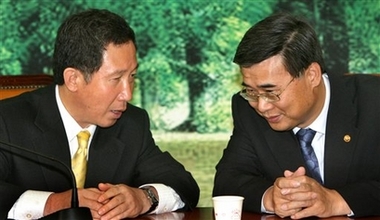 South Korean ruling Uri Party Chairman Kim Keun-tae, left, talks with South Korean Unification Minister Lee Jong-seok during a meeting to discuss for North Korea's missile test in Seoul, Tuesday, June 20, 2006. The United States sternly warned North Korea not to test-fire a long-range missile thought powerful enough to reach the U.S. coast, as officials suggested economic sanctions could be imposed as punishment. [AP]
North Korea's apparent moves toward testing a long-range ballistic missile have spiked tensions in the region and drawn warnings of serious repercussions from the United States and others.
On Monday, Secretary of State Condoleezza Rice warned the North that it will face consequences if it launches a missile, calling it a "very serious matter."
North Korea responded Tuesday by saying that U.S. moves to build a missile shield are fueling a dangerous arms race in space.
"The world is not allowed to avert its face from the grave situation in which it is facing the danger of a nuclear shower from the blue sky," the North's Minju Joson newspaper wrote in a commentary, according to the country's Korean Central News Agency.
North Korea also criticized a Japanese move to buy missiles and associated equipment from the U.S. to upgrade its missile defense system.
The North claimed Tokyo's new missiles showed an intent to become "a military giant" and mount "overseas aggression," the North's main newspaper, Rodong Sinmun, said in commentary carried by KCNA.
The United States, Japan, Australia, South Korea and other countries have urged North Korea to abandon any missile firing, but there was no sign of backing down. U.S. officials in Washington said Monday the missile was apparently fully assembled and fueled, but Japan said Tuesday it could not confirm that fueling was completed.
South Korea's agency, the National Intelligence Service, also believes North Korea hasn't yet completed fueling the rocket because the 40 fuel tanks seen around a launch site weren't enough to fuel a projectile estimated to be 65 tons, Yonhap news agency reported, quoting lawmakers who attended an intelligence briefing.
Bad weather over the purported launch site in North Korea on Tuesday dimmed chances of an immediate launch. The area was cloudy, with rain expected through Wednesday morning, said Kim Seung-bae of the South's Korea Meteorological Administration.