Japanese Prime Minister Junichiro Koizumi on Tuesday announced the withdrawal of Japanese ground troops from southern Iraq, moving to end the country's largest military mission since World War II.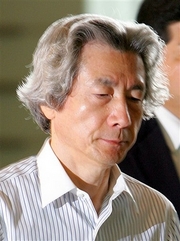 Japanese Prime Minister Junichiro Koizumi arrives at the prime minister's official residence in Tokyo, Tuesday. [AP]
In a nationally televised news conference, he said the troops — dispatched in early 2004 — had helped rebuild the infrastructure of the area they were based, and he pledged to continue aiding Iraqi reconstruction.
He offered no timetable for the withdrawal, but Kyodo News agency reported that Defense Chief Fukushiro Nukaga immediately issued a withdrawal order.
Japan has about 600 troops in the city of Samawah in southern Iraq. Although the mission is strictly non-combat and humanitarian, the deployment broke new ground as a symbol of Tokyo's more assertive military policy of recent years. But it had only tepid support among the Japanese public.
The pullout was prompted by the announcement on Monday that Britain and Australia would hand over to Iraqi forces responsibility for security in southern Muthana province, where the Japanese troops are based.
Japan has been concerned about its troops being drawn into the fighting in Iraq.