US Deputy Secretary of State Robert Zoellick, the department's No. 2 official, is resigning, Secretary of State Condoleezza Rice announced Monday.
Rice praised Zoellick's "tireless work ethic," and said he had served as her "alter ego" in the department. She did not announce a replacement.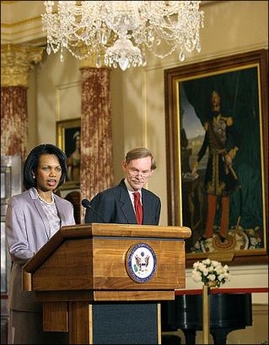 US Secretary of State Condoleezza Rice(L) announces the resignation of Deputy Secretary of State Robert Zoellick(R) at the US State Department in Washington, DC. [AFP]

"Our nation is stronger and safer because of your work," Rice said at the State Department.

Zoellick told reporters later that he had informed Rice and the White House months ago he was thinking of leaving the post. After six intensive years as U.S. trade chief and then as Rice's deputy, "I determined to make a change."

Zoellick said he delayed his departure, though, to help make preparations for the visit of Chinese President Hu Jintao to Washington in April and to help negotiate a peace agreement for the Darfur region of Sudan last month.

Zoellick, 52, said he would join the Wall Street investment house Goldman Sachs Group Inc. and concentrate on trying to develop investment markets around the world.

A successor was not named immediately, and Zoellick said he did not know who it would be. "That's for the president and the secretary to determine," he said.

In his resignation letter, dated June 15, Zoellick did not say why he was leaving. A former U.S. trade representative, Zoellick reportedly wanted to be promoted to treasury secretary to replace departing secretary John Snow, but President Bush nominated Goldman Sachs executive Henry Paulson instead.

Zoellick praised Paulson as an "extraordinary choice." While not denying he would have liked to have been selected, Zoellick said, "If I were the president, I would have picked Hank Paulson, too."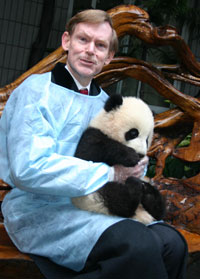 Zoellick holds a panda cub during a visit to a panda preserve in Chengdu, Southwest China's Sichuan Province January 25, 2006. [newsphoto]
"I'm pleased to have built a first-rate team, offer counsel on a number of initiatives and back up the secretary," Zoellick said at the news briefing. "I've accomplished what I set out to do, and it's time to step down."
Although Zoellick was not widely known beyond Washington, Rice made a joking reference to one instance when Zoellick's photo was printed around the world. During a visit last year to a Chinese panda preserve, the severe, often demanding Zoellick was photographed nuzzling a panda cub and looking delighted.
Rice said she had given Zoellick tough assignments that required him to travel often and fill in for her in Washington, "and occasionally even hug a panda."