DPRK warned on possible missile test
(Reuters)
Updated: 2006-06-19 08:40
Japan warned North Korea on Sunday of "a harsh response" from Tokyo and Washington if it went ahead with the launch of a long-range missile.

Amid reports that a launch was imminent, a Japanese official quoted by the Sankei Shimbun daily said North Korea's leadership had told people to raise the flag at 2:00 p.m. (0500 GMT) and monitor television for a "message to the people."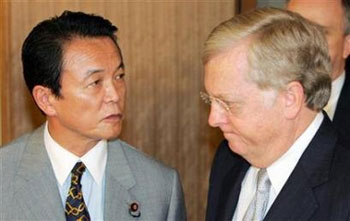 U.S. Ambassador to Japan Thomas Schieffer (R) meets Japanese Foreign Minister Taro Aso at the start of talks on North Korea's missile issue at the latter's office in Tokyo June 17, 2006. [Reuters]
The time came and went without any reports of a missile test. Japan's Jiji Press news agency reported that Japanese Defense Agency officials had concluded that a launch was not imminent, but that monitoring would continue.
A South Korean government official had cautioned against reading too much into Pyongyang's instructions to its people.
The official, quoted by Yonhap news agency, noted Monday marked the 42nd anniversary of the start of leader Kim Jong-il's career at the central committee of the Workers' Party of Korea and that people were urged to watch TV on June 18 last year.
The Korea Central News Agency later issued a statement noting the anniversary, but also lambasting the United States and Japan for their bellicose attitude toward North Korea.
"The Korean army and people will do their best to increase the military deterrent with sharp vigilance to cope with the moves of the U.S., which is hell-bent on provocations for war of aggression on the DPRK," it said without mentioning a missile.
The DPRK refers to the Democratic People's Republic of Korea, the North's official name.
CBS News reported that South Korea's ambassador to the United States, Lee Tae-sik, had told Korean correspondents in Washington that Pyongyang may have fueled a missile already.
"Satellite photos confirmed scores of fuel tanks near the missile launch pad," he said.
"We are not sure whether they had already completed fuelling or located (the tanks) there to fuel it."