A US military autopsy was finished on Abu Musab al-Zarqawi on Sunday, but the findings were not immediately released by American officials.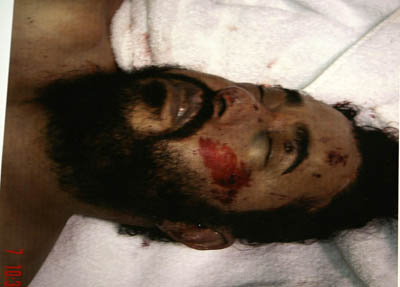 A picture of the dead Al Qaeda leader in Iraq, Abu Musab al-Zarqawi, is displayed by the U.S. military during a news conference at the fortified Green Zone in Baghdad June 8, 2006. [Reuters]


"The autopsy is completed. However, we are not releasing results yet," Maj. William Willhoite told The Associated Press.

Gen. George Casey, the top U.S. commander in Iraq, said officials were awaiting the results of a DNA test.

The examination by two U.S. military forensic specialists flown in specially for the autopsy was part of an investigation to reconstruct the last minutes of the terror chieftain's life before an American warplane bombed his hideout late Wednesday.

U.S. commanders initially said al-Zarqawi, leader of al-Qaida in Iraq, died in the airstrike but later said he survived and died soon after.

An Iraqi man on Saturday raised questions about al-Zarqawi's death, telling AP Television News he saw U.S. soldiers after the airstrike beating an injured man who resembled the dead terrorist leader until blood flowed from his nose.

Casey told Fox News on Sunday that after the allegation was made, the military had "already gone back, looked at it."

"Our soldiers who came on the scene found him being put in an ambulance by Iraqi police. They took him off, rendered first aid, and he expired," Casey said. "And so he died while American soldiers were attempting to save his life. And so the idea that there were people there beating him is just ludicrous."

The Iraqi witness, identified only as Mohammed, said he lives near the house where al-Zarqawi and five others were killed. He said residents put a bearded man in an ambulance before U.S. troops arrived. A similar account appeared in The Washington Post.

No other witnesses have come forward to corroborate the account. U.S. officials previously said al-Zarqawi mumbled and tried to roll off a stretcher before dying at the bombed house outside Baqouba, about 35 miles northeast of Baghdad.

Because of the confusion over the sequence of events following the bombing, the military has promised to release a chronology. In addition to al-Zarqawi, the airstrike killed two men, two women and a young girl who were in the house, the U.S. command says.

At least one U.S. officer said American troops responded quickly, while a senior Iraqi official said Sunday that they may have arrived as much as an hour after the attack.

"After the national Iraqi police arrived to the scene and got the injured, got the dead sorted out. In an hour or so, I think, coalition forces have arrived to the scene also to help in the logistics of the operation afterward," Iraqi National Security adviser Mouwafak al-Rubaie told CNN.

Al-Rubaie said troops combing though the debris found al-Zarqawi's diaries, telephone numbers, computers and a database in one computer.

Maj. Gen. William Caldwell, the U.S. military spokesman in Baghdad, has said that troops discovered a "treasure trove" and that 56 raids had been carried out since al-Zarqawi was killed.

Meanwhile, al-Qaida in Iraq warned Sunday that it is still powerful and will carry out "major attacks," leading Iraqi and American officials to announce plans for a new security crackdown in Baghdad.

Its Internet statement did not name a successor to al-Zarqawi, but said the group's leadership "renews its allegiance" to

Osama bin Laden.

Bin Laden "will see things that will bring joy to his heart," it said, vowing "to prepare major attacks that will shake the enemy like an earthquake and rattle them out of sleep."

Iraq's new Sunni Arab defense minister, Abdul-Qader Mohammed Jassim al-Mifarji, said a security plan would be put in place around the capital to deal with a possible surge in terror attacks.

Casey said he expected al-Qaida "to try to do what they said."

"I think what you're going to see is an enhanced security operation here announced by the prime minister in Baghdad over the course of the coming week and a tightening of security in the Baghdad area," Casey told Fox News.

He said security forces would be prepared. "But again," he added, "you can't stop terrorist attacks completely."