The family of Abu Musab al-Zarqawi said Friday they want to bury him in his hometown, but Jordan vowed the terror leader who killed Jordanians in a triple hotel bombing would never "stain" the country's soil.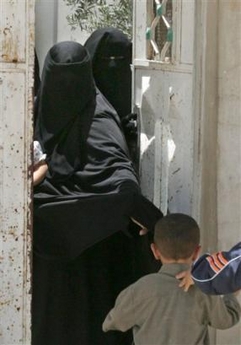 Two Jordanian veiled women, reportedly Abu Musab al-Zarqawi's sisters, enter his house in Zarqa, 27 kms (16 Miles) east of Amman, Jordan, Thursday, June 8. 2006. Members of Abu Musab al-Zarqawi's family gathered here Thursday to mourn the death of the notorious al-Qaida in Iraq leader who they had disavowed last year after an attack on civilians in Jordan. [AP]

Al-Zarqawi's family passed out candies to well-wishers who came by the house to celebrate his "martyrdom" ¡ª bringing into the open the vein of sympathy that ran through the community even after his clan officially renounced al-Zarqawi last year.

But many seemed conflicted about al-Zarqawi, proud of his fight against U.S. forces many here see as occupiers in Iraq but also angry over his attacks in Jordan.

Al-Zarqawi's brother, Sayel al-Khalayleh, said "I and all members of our family want him (Al-Zarqawi) to be buried in his hometown of Zarqa."

"Everybody must understand that his place must be near his family," he told The Associated Press by telephone. "He is a martyr and should be treated as such."

Security forces closed off the neighborhood around the family home, preventing reporters from approaching.

A top Jordanian security official said Friday that the government will not allow al-Zarqawi "under any circumstances" to be buried in Jordan and "stain Jordanian soil." He pointed to the suicide bombing against hotels in the capital, Amman, in November 2005. Al-Zarqawi's al-Qaida in Iraq organization carried out the attack, which killed 60 people, most of them Jordanians.

The official spoke on condition of anonymity because he was not authorized to speak to the press. But he said he was giving the government position on the issue.

Al-Zarqawi was born Ahmad Fadhil Nazzal al-Khalayleh in Jordan and grew up in the industrial town of Zarqa, east of Amman. He left in 1999 for Afghanistan, where he remained until just after the 2001 U.S. invasion of that country, when he moved to Iraq.

There he led a campaign of suicide bombings for three years until he was killed Wednesday in a U.S. airstrike outside of Baqouba, northeast of Baghdad.

The U.S. military in Baghdad had no immediate comment on where al-Zarqawi's body is or whether it would be returned to his family for burial.

There is a precedent for returning the bodies of major figures to their families in the Iraq conflict. The military returned the bodies of Saddam Hussein's two sons, Odai and Qusai, to their relatives after they were killed in a gunbattle with U.S. forces in 2003. The brothers were buried in Saddam's home region of Tikrit, north of Baghdad.

After the Amman bombings, al-Zarqawi's family and broader clan, the Bani Hassan, took out newspaper ads publicly renouncing their ties to him. But with his death, many in the town were calling him a martyr in sympathy with his cause ¡ª if not all his actions.

"We are with jihad (holy war), but we cannot accept any crime against our country," said Sheik Hassan, gathering with other worshippers outside the town's al-Khalidi mosque after Friday prayers.

"Even if he was a criminal and was killed by the Americans or the Jews, he is considered a martyr," said shop owner Mohammed Hassan al-Najjar.

But Khaled Tolash, an English teacher, didn't qualify his contempt for al-Zarqawi.

"We thank God that a criminal has vanished from the earth," he said. "What awaits him now for his judgment is the justice of God."