Abu Musab al-Zarqawi could barely speak, but he struggled and tried to get away from American soldiers as he lay dying on a stretcher in the ruins of his hideout.
The US forces recognized his face, and knew they had the leader of al-Qaida in Iraq.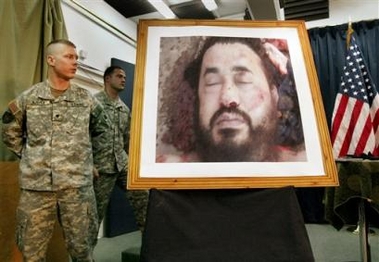 U.S. soldier at a press conference in Baghdad, Iraq looks across at a photo purporting to show the body of Abu Musab al-Zarqawi, the al-Qaida-linked militant who led a bloody campaign of suicide bombings, kidnappings and hostage beheadings in Iraq, who was killed Wednesday in a US airstrike, Iraq's Prime Minister Nouri al-Maliki announced Thursday, June 8, 2006. [AP]
Initially, the US military had said al-Zarqawi was killed outright. But Friday new details emerged of his final moments.
For three years, al-Zarqawi orchestrated horrific acts of violence guided by his extremist vision of jihad, or holy war ¡ª first against the U.S. soldiers he considered occupiers of Arab lands, then against the Shiites he considered infidels.
On Wednesday, the US military tracked him to a house northwest of Baghdad, and blew it up with two 500-pound bombs.
Al-Zarqawi somehow managed to survive the impact of the bombs, weapons so powerful they tore a huge crater in the date palm forest where the house was nestled just outside the town of Baqouba.
Iraqi police reached the scene first, and found the 39-year-old al-Zarqawi alive.
"He mumbled something, but it was indistinguishable and it was very short," Maj. Gen. William Caldwell, spokesman for US-led forces in Iraq, said Friday of the Jordanian-born terrorist's last words.
Iraqi police pulled him from the flattened home and placed him on a makeshift stretcher. U.S. troops arrived, saw that al-Zarqawi was conscious, and tried to provide medical treatment, the spokesman said.
"He obviously had some kind of visual recognition of who they were because he attempted to roll off the stretcher, as I am told, and get away, realizing it was the U.S. military," Caldwell told Pentagon reporters via videoconference from Baghdad.
Al-Zarqawi "attempted to, sort of, turn away off the stretcher," he said. "Everybody re-secured him back onto the stretcher, but he died almost immediately thereafter from the wounds he'd received from this airstrike."
So much blood covered al-Zarqawi's body that US forces cleaned him up before taking photographs. "Despite the fact that this person actually had no regard for human life, we were not going to treat him in the same manner," Caldwell said.
The airstrike killed two other men and three women who were in the house, but only al-Zarqawi and his spiritual adviser have been positively identified, he said.
Caldwell also said experts told him it is not unheard of for people to survive a blast of that magnitude.
"There are cases when people, in fact, can survive even an attack like that on a building structure. Obviously, the other five in the building did not, but he did for some reason," Caldwell said.
He said he did not know if al-Zarqawi was inside or outside the house when the bombs struck.
"Well, what we had found, as with anything, first reports are not always fully accurate as we continue the debriefings. But we were not aware yesterday that, in fact, Zarqawi was alive when U.S. forces arrived on the site," Caldwell said.
His recounting of the aftermath of the airstrike could not be independently verified. The Iraqi government confirmed only that Iraqi forces were first on the scene, followed by the Americans.
An aide to Prime Minister Nouri al-Maliki, speaking on condition of anonymity because he was not authorized to talk to the media, said he saw Caldwell's news briefing but could neither confirm nor deny that al-Zarqawi briefly survived the blast.
"Well, I think it's clear: The Americans said he was seriously wounded and he died," the aide said.