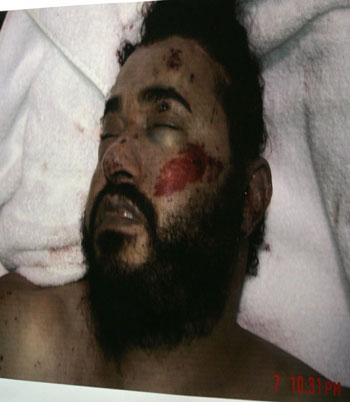 A picture of the dead al Qaeda leader in Iraq, Abu Musab al-Zarqawi, is displayed by the U.S. military during a news conference at the fortified Green Zone in Baghdad June 8, 2006. [Reuters]
The US military displayed images of the battered face of Iraq's most feared terrorist Thursday and Iraqis celebrated with gunfire after American bombs killed the leader of al-Qaida in Iraq.

It was a long-sought victory for US forces, but officials cautioned of violence ahead - and a string of blasts proved that prediction almost immediately.
Within minutes of the announcement of Abu Musab al-Zarqawi's death, Prime Minister Nouri al-Maliki named three key security ministers - military and political breakthroughs in rapid succession that marked the biggest potential turnaround in Iraq in months.
The two events may give the United States and its Iraqi allies another brief chance to build momentum toward stability and away from violence. With al-Zarqawi out of the way and the new government in place, some Sunni Arab leaders may be emboldened to resume a dialogue they started last fall - exchanges sunk by al-Zarqawi's al-Qaida in Iraq.
If another effort is made, much will depend on the Iraqi government's ability to live up to its promises to build a political system that includes all groups, including disaffected Sunnis. More than a dozen Sunni Arab insurgent groups are believed to be operating in Iraq, and a few use tactics just as ruthless as al-Zarqawi's.
"This popular front and national unity is our guarantee to fighting all challenges," al-Maliki told a Baghdad news conference. But, he warned, "whenever there is a new al-Zarqawi, we will kill him."
President Bush and US military leaders cautioned that the death of the 39-year-old militant was not likely to end the bloodshed - just as the capture of Saddam Hussein and the killings of his two sons failed to dampen the insurgency. A rash of bombings that killed nearly 40 people in Baghdad on Thursday confirmed that assessment.
"We have tough days ahead of us in Iraq that will require the continuing patience of the American people," Bush said.
Nevertheless, the president called the killing "a severe blow to al-Qaida, and it is a significant victory in the war on terror."
Tips from within al-Zarqawi's own terror network helped the US locate and bomb a safe house where the al-Qaida leader was meeting in secret with top associates, American military officials said. Al-Maliki told al-Arabiya television the US$25 million bounty the US put on al-Zarqawi's head would be honored, saying "we will meet our promise."
Al-Zarqawi was killed at 6:15 p.m. Wednesday after an intense two-week hunt that US officials said first led to the terror leader's spiritual adviser and then to him.
Loud applause broke out as al-Maliki, flanked by US Ambassador Zalmay Khalilzad and US Gen. George Casey, announced at the news conference that "al-Zarqawi was eliminated."
Casey, the top US commander in Iraq, said the American airstrike targeted "an identified, isolated safe house." Four other people, including a woman and a child, were killed with al-Zarqawi and Abu Abdul-Rahman al-Iraqi, the terrorist's spiritual consultant.
Al-Qaida confirmed al-Zarqawi's death in a statement and vowed to continue its "holy war." Curiously, the announcement was signed by al-Iraqi, who was identified as deputy "emir" of the group, perhaps in an attempt to spread confusion.
Fingerprints, tattoos and scars helped US troops identify al-Zarqawi's body, White House spokesman Tony Snow said. The military released pictures of al-Zarqawi's face after the airstrike, with his eyes closed and spots of blood, images reminiscent of photos of Saddam's dead sons.
Spokesman Maj. Gen. William Caldwell also showed a videotape of the air assault taken by one of the F-16 fighter jets that dropped the two 500-pound bombs, obliterating the terrorist leader's safe house five miles west of Baqouba.
"We had absolutely no doubt whatsoever that Zarqawi was in the house," Caldwell said.