Iraqi PM announces ministry candidates
(AP)
Updated: 2006-06-08 17:32
Iraqi Prime Minister Nouri al-Maliki on Thursday presented his candidates for the key ministries of defense, interior and national security and asked parliament to approve them in an effort to end a 20-day impasse.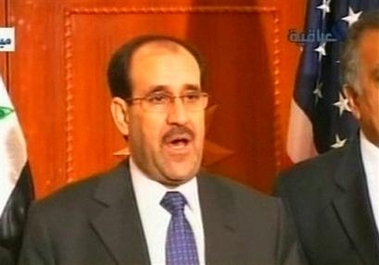 Image from television shows Iraqi Prime Minister Nouri al-Maliki speaking at a news conference in Baghdad Thursday June 8 2006 at which he announced that Jordanian terrorism mastermind Abu Musab al-Zarqawi, who led a bloody campaign of suicide bombings, kidnappings and hostage beheadings in Iraq, was killed late Wednesday in an air raid north of Baghdad. [AP]
Al-Maliki has been unable to break a stalemate over the posts since May 20, when his cabinet was sworn in. The candidates were Iraqi Army Gen. Abdul-Qadre Mohammed Jassim, a Sunni Arab, for defense minister, and Shiites Jawad al-Bolani for interior and Sherwan al-Waili for national security.
The posts are considered crucial for al-Maliki's government to implement a plan allowing Iraqi forces to take over security from the U.S.-led coalition within 18 months, opening the way for the eventual withdrawal of foreign troops.