Al-Qaida chief al-Zarqawi killed
(Reuters/AP)
Updated: 2006-06-08 15:40
Iraqi Prime Minister Nuri al-Maliki announced on Thursday that al Qaeda leader in Iraq Abu Musab al-Zarqawi had been killed in a joint U.S. and Iraqi military raid north of Baghdad.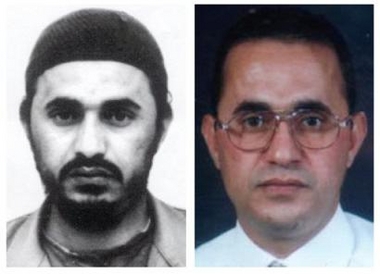 Jordanian-born terrorist mastermind Abu Musab al-Zarqawi is seen in these undated photos - the photo at left released in Amman, Jordan, Dec. 14, 2002, the photo at right released by the Department of State September 2004. Iraq's prime minister is expected to make an important announcement early Thursday June 8, 2006 amid reports that al-Qaida in Iraq chief Abu Musab al-Zarqawi has been killed. [AP]
Jordanian-born Zarqawi is blamed by the United States for the beheading of foreign captives and suicide bombings that have maimed and killed hundreds in Iraq. He had become a figurehead for Islamist militants opposing Washington and Maliki's government.

"Today Zarqawi has been terminated," Maliki told a televised news conference attended by the top U.S. commander in Iraq, General George Casey, and other senior officials.

Casey said Zarqawi's body had been identified and warned that Zarqawi's followers still posed a security threat to Iraq.

U.S. Ambassador Zalmay Khalilzad said Zarqawi's death marked a "great succees" but cautioned that it will not end violence in the country.

Casey said Zarqawi was killed in an air raid. Casey said the hunt for al-Zarqawi began in the area two weeks ago, and al-Zarqawi's body was identified by fingerprints and facial recognition.
A picture of the dead Al Qaeda leader in Iraq, Abu Musab al-Zarqawi, is displayed by the U.S. military during a news conference at the fortified Green Zone in Baghdad June 8, 2006. [Reuters]

ABC news reported on Thursday that U.S. helicopters hit a house near Baquba, 40 miles (65 km) north of Baghdad, at 6 p.m. local time on Wednesday.

"Zarqawi was apparently injured at first... The Americans found him. They handed him over to the Iraqis and he later died of his injuries," ABC said.

Maliki said the air strike was the result of intelligence reports provided to Iraqi security forces by residents in the area, and U.S. forces acted on the information.

"Those who disrupt the course of life, like al-Zarqawi, will have a tragic end," he said.