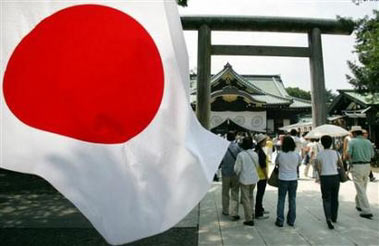 The Yasukuni Shrine in Tokyo in a 2005 file photo. [Reuters]
The Tokyo war shrine at the centre of sour relations between Japan and its Asian neighbours has issued a pamphlet in Chinese and Korean, shrine representatives said on Wednesday.
Tokyo's ties with Seoul and Beijing worsened partly due to visits by Prime Minister Junichiro Koizumi to Tokyo's Yasukuni Shrine, which was seen as a symbol of Japan's past militarism by many wartime victims in Asia.
Convicted World War Two war criminals are honoured along with other war dead at the Shinto shrine, which Koizumi began visiting when he came to power five years ago.
Koizumi claims that he goes to the shrine to pray for peace and honour those who died, not to glorify war.
The leaflet, also translated into English, says: "There were also more than 1,000 people who were labelled war criminals and executed after having been tried by the Allies ...
"We refer to these divinities as the 'Showa Martyears'."
The Korean and Chinese versions of the text refer to the trials as "one-sided" or "unfair".
A shrine official said the leaflet was based on one it issues in Japanese. "There is a noticeable increase in the number of worshippers and visitors from China, including Taiwan, and from South Korea," the shrine said in a statement. "We created this pamphlet ... to help them understand Yasukuni Shrine better."
The document refers to World War Two as the "Greater East Asian War", a term reminiscent of Japanese wartime propaganda, which could upset many in Asia.
It says Japan was forced to fight other nations in World War Two and other wars. "These wars were indeed horrific, but they had to be fought to ensure Japan's independence and its prosperity as a peaceful member of the Asian community," it says.
"The hundreds of thousands of people who gave their lives for these great goals are enshrined at Yasukuni shrine as divinities."
Japan occupied the Korean peninsula from 1910 to 1945 and invaded and occupied parts of China in the first half of the 20th century.