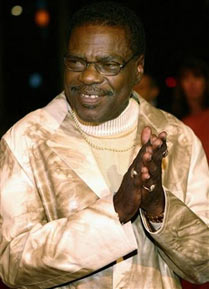 Billy Preston poses as he arrives for a taping of the CBS television network special 'Genius A Night to Remembe,r' honoring the late legendary musician Ray Charles, in Los Angeles in this October 8, 2004 file photo. Preston, a so-called 'fifth Beatle' who also played with the Rolling Stones and enjoyed solo success in his own right, died in Arizona on Tuesday after a long illness. He was 59. [Reuters]
Keyboardist Billy Preston, a flamboyant sideman who added soul to recordings by the Beatles and Rolling Stones and enjoyed solo success in his own right, died in Arizona on Tuesday after a long illness. He was 59.
The so-called "fifth Beatle" had been in a coma at Scottsdale Healthcare Shea in Scottsdale, Arizona, since November after suffering kidney failure and related illnesses, the legacy of a long battle with drugs that landed him in prison in the late 1990s.
His sister, Lettie Preston, told Reuters his condition worsened over the weekend. An autopsy will be performed, and his funeral will take place in Los Angeles, she said.
A young keyboards prodigy, the Houston, Texas, native spent most of his life in the entertainment business. While still a teenager, he played with Mahalia Jackson, Little Richard and Ray Charles. Easily recognized by his large Afro hairstyle, gap-toothed smile and funky clothing sense, he was a popular addition to any lineup.
"Billy was a fantastic and gifted musician ... a superb singer in both recording sessions and onstage," Rolling Stones frontman Mick Jagger said in a statement. "He was great fun to be with ... and I will miss him a lot."
Fellow Rolling Stone Keith Richards described Preston as "a genius with all the baggage."
Added Elton John, "He was one of my true inspirations, one of the greatest keyboard players of all time and not too shabby a vocalist either."
Preston began the transformation from sideman to a star in his own right when he joined forces with the Beatles in 1969, temporarily helping to soothe tensions as the band was on the verge of breaking up.
He performed on both sides of the "Get Back"/"Don't Let Me Down" single, which was credited to "The Beatles with Billy Preston" -- the first time the band had shared the spotlight with a sideman. He accompanied them during their last concert that year, the famous rooftop gig in London.
SOLO ACT
In the early 1970s, he topped the charts as a solo act with the Grammy-winning instrumental "Outa Space," "Will It Go Round in Circles" and "Nothing From Nothing." He also wrote Joe Cocker's 1974 hit "You Are So Beautiful."
At the same time, he was becoming a fixture with the Rolling Stones, recording on such tracks as "Can't You Hear Me Knocking" and "Heartbreaker," and playing on several tours.
"He's just such a great player, singer and songwriter and has spiced up so many recordings with his keyboard prowess," said current Rolling Stones tour keyboardist Chuck Leavell. "He's one of my true heroes."
Preston's private life was darker. In 1992, he pleaded no contest to cocaine and assault charges stemming from an incident the year before with a 16-year-old boy, who claimed that he had been sexually attacked and shown obscene pictures. He was sentenced to nine months at a drug rehabilitation center and three months of house arrest.
In 1997, a California judge sentenced him to three years in prison for violating the terms of his probation for a cocaine possession conviction. In 2001, he pleaded guilty to insurance fraud after setting fire to his own house, and was sentenced to a year in prison to run consecutively with the time he was already serving.
Born William Everett Preston on September 9, 1946, he moved with his family to Los Angeles when he was 2. He appeared in the 1958 film "St. Louis Blues," which starred Nat King Cole as bluesman W.C. Handy. Preston played Handy as a child. Gospel legend Mahalia Jackson was also in the film, and he would go on to play organ on some of her best-known recordings, including "In the Upper Room."
In 1962, Little Richard hired Preston to join his backing band for a European tour. He met the Beatles during their residency at the Star Club in Hamburg, Germany, and also Sam Cooke, who signed him to his SAR label. Cooke was killed two years later, and Preston signed with Vee Jay records, one-time American home of the Beatles, through which he released an instrumental gospel record.
After a stint playing in the house band for the TV show "Shindig," he joined Ray Charles' band. Beatles guitarist George Harrison renewed their friendship and brought him into the tense Apple Studios in January 1969 where the Fab Four were barely speaking to each other while working on the "Let It Be" film and recording projects.
Preston's organ handiwork can also be heard on such Beatle songs as "Let It Be," "I Want You (She's So Heavy)" and "Something."
"What set him apart from other virtuosos was, quite simply, soul," said Ernie Rideout, editor in chief at Keyboard Magazine. "He could play the simplest blues lick on a Wurlitzer electric piano, and it would have as much emotion as a Paul McCartney vocal ... Everything he played was the perfect thing, at the perfect time. That was his art."
Harrison signed him to Apple Records and co-produced Preston's two albums, "That's the Way God Planned It" and "Encouraging Words."
Preston also contributed to many Beatle solo albums, including Harrison's "All Things Must Pass," John Lennon's "Sometime in New York City" and Ringo Starr's "Sentimental Journey." He won a Grammy as a performer on the Harrison-orchestrated 1973 album of the year "The Concert for Bangladesh."
Preston's credits with the Rolling Stones included the albums "Sticky Fingers" and "Black and Blue." He and Jagger danced seductively together in the video clip for "Hey Negrita." He not only toured with the Stones, he also opened for them.
In his later years, he toured with Eric Clapton and Steve Winwood, as well as Motown session musicians the Funk Brothers. He was featured on Ray Charles' last album "Genius Loves Company," as well as the latest albums by Neil Diamond and the Red Hot Chili Peppers.