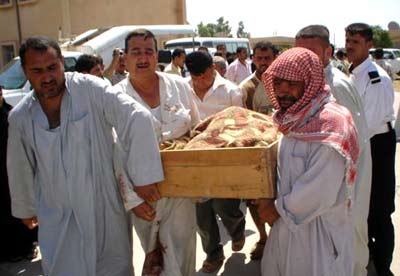 Iraqi residents carry the coffin of one of the 24 civilians who were dragged at a checkpoint and shot "execution style" in Udhaim, 120 km (80 miles) north of Baghdad, June 4, 2006. [Reuters]
Gunmen dragged passengers off a buses northeast of Baghdad and killed 21 people, including a dozen high school students. The attackers spared four Sunni Arabs in one the worst sectarian atrocities in recent weeks.
Serwan Shokir, the mayor of Qara Tappah, said one other person was wounded in the early morning attack. He said there were 26 people on three mini headed from his town to Baqouba, 35 miles northeast of Baghdad. The 12 slain students were apparently headed for Baqouba to take exams.
Of the dead, 19 were Shiite Turkomen and two were Kurds.
The four Sunni who survived were being question at Qara Tappah police station, Shokir said.
The attack occurred on the outskirts of Diyala province, a mixed region that in recent weeks has been transformed into a sectarian powder keg, with attacks against Sunni Arab and Shiite Shrines.
A parliament session was postponed Sunday after Prime Minister Nouri al-Maliki again failed to reach a consensus on candidates for the crucial ministers who will run the country's armed forces and police. Al-Maliki had promised to name candidates for approval by the 275-member parliament despite the disagreement, but was apparently persuaded to wait.
Deputy Parliament Speaker Khalid al-Atiya, a Shiite, said that due to the large number of candidates and failure to reach any agreement, the political parties decided "to give the prime minister another chance to have more negotiations."
Al-Maliki had engaged in last minute negotiations Sunday with Sunni Arabs, Shiites and Kurds in an effort to find a solution.
Al-Maliki and one of his deputes have staffed the posts of defense, interior and minister of state for national security since his government of national unity took office two weeks ago.
Filling the posts is seen as a key step toward al-Maliki's plan for Iraqi forces to take control of security from US-led troops in 18 months.
The Interior Ministry post will go to a Shiite, the Defense Ministry to a Sunni Arab in an effort to provide balance on security matters.
There were conflicting reports Sunday over the fate of four Russian diplomats kidnapped in Baghdad.
An Interior Ministry spokesman on Sunday denied a report that four Russian hostages had been released the night before in a raid by Iraqi commandos. A senior ministry official Lt. Colonel Falah al-Mohamedawi said earlier that the Russian Embassy employees had been freed in a commando raid Saturday
But Brig. Adnan Abdul Rahman, the ministry's information director, later denied they had been released and said "this is not true."
The Russian Embassy in Baghdad said it had no new information on the captives. The Foreign Ministry in Moscow also said it was still trying to verify the information, according to the Russian ITAR-Tass news agency.
On Saturday, gunmen attacked a Russian diplomatic car just after noon, killing one Russian foreign service employee and kidnapping four, Russia's Foreign Ministry said in a statement. The ministry identified the slain Russian as Vitaly Vitalyevich Titov, according to the ITAR-Tass news agency.
The Sunni Arab Iraqi Islamic Party, a main partner in the government, condemned the attack and called on the kidnappers to release the Russians immediately. It also urged the Iraqi government to take action to secure Baghdad and other Iraqi cities and "put an end to these crimes."
At least 439 foreigners including diplomats have been kidnapped in Iraq since the US-led invasion three years ago, according to figures provided earlier this month by a US anti-kidnapping task force. Russia opposed the US-led invasion of Iraq and has no troops here but maintains a diplomatic presence.
In the southern city of Basra, a gunbattle broke out after Iraqi police surrounded a Sunni Arab mosque early, leaving at least nine people dead.
The standoff occurred hours after police stormed four Sunni mosques in Iraq's second-largest city late Saturday and Sunni clerics called on followers to gather in one of the shrines to protect it.
Basra police said they were searching for suspected militants based inside the al-Arab mosque in Basra when gunmen opened fire from within the shrine. Iraqi forces also said they arrested six people and found two vehicles packed with explosives near the mosque. Six people were arrested.
In Baghdad, gunmen in a car opened the fire on a minibus carrying telecommunications employees to work in the Shiite slum of Sadr City, killing four and wounding two, Col. Hassan Challoub said.
On Saturday, a suicide car bomber blew himself up in a crowded market late in Basra, killing 28 people and wounding 62.