Security cooperation among nations in Southeast Asia is expanding but could be set back if China, Russia and North Korea don't become more open, Defense Secretary Donald H. Rumsfeld said Saturday.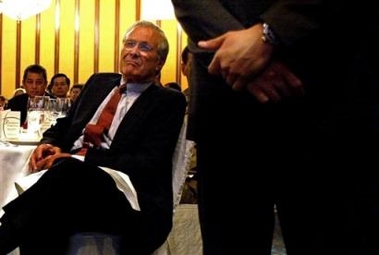 U.S. Secretary of Defense Donald Rumsfeld, left, listens to a keynote speech as a security personnel stands beside him during the opening dinner of the 5th Asia Security Summit in Singapore Friday, June 2, 2006. Rumsfeld is in the city-state where defense chiefs are meeting this weekend at a time of growing American concern over China's rise as a regional military power.[AP]

In remarks prepared for delivery to a gathering of military leaders from the region, Rumsfeld pledged that the United States will stay involved in Southeast Asia. He pointed to improved relationships between the United States and Japan, India, Indonesia, South Korea and Pakistan.
"More nations are freer than ever before, yet freedom is increasingly under assault — by the designs of violent extremists and rogue regimes," said Rumsfeld.
As countries work together to fight terror threats and bring aid during disasters, there are still concerns that he said the U.S. will monitor.
"The way ahead for other nations will be something that our country will watch closely," said Rumsfeld. He said that includes attempts by Russia to restrict the freedom of neighboring countries, the continued lack of transparency in China's military budget and threats by North Korea to pursue nuclear weapons.
The future of the Pacific Rim, said Rumsfeld, will depend on the path North Korea takes — whether it continues to repress its people and threaten its neighbors or follows Libya's example that "leads back to membership in the community of nations."
Libya has renounced weapons of mass destruction and agreed to cooperate in the hunt for terrorists. In return, the U.S. has said it would restore full diplomatic relations.
On this trip, Rumsfeld also plans to visit Vietnam and Indonesia, then travel to Brussels for a NATO defense ministers meeting.
Speaking to reporters Friday, Rumsfeld said the U.S. military relationship with Vietnam is growing.
Rumsfeld is encouraging Southeast Asian nations to work closely with the United States in the face of pressure from China and Russia to at times exclude the U.S. from regional meetings.
Pentagon officials said Rumsfeld, who arrived in Singapore after a daylong, nonstop flight, will take a more positive approach than last year when he took direct aim at China's ongoing military buildup and the need for greater openness in that country.
Rumsfeld's visit "will underscore the strategic importance of Asia," Pentagon spokesman Eric Ruff said. "The secretary's visit here demonstrates our commitment to Asia and to the friends and allies we have in this region."