Rice: Iran doesn't have much time
(AP)
Updated: 2006-06-02 20:40
The United States warned Iran it will not have much time to respond once it is offered an international package of rewards to encourage it to suspend uranium enrichment, suggesting that the window could soon close and be replaced by penalties.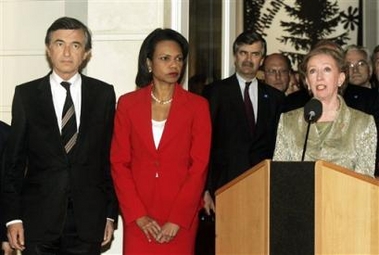 French Foreign Minister Philippe Douste-Blazy and U.S. Secretary of State Condoleezza Rice listen to Britain's Foreign Minister Margaret Beckett, from left, during a press briefing after a meeting at the British Residence in Vienna, Thursday June 1, 2006. [AP]
"It really needs to be within weeks," U.S. Secretary of State Condoleezza Rice told NBC's "Today" show, referring to the six-power package of perks or penalties aimed at halting Iran's enrichment activities.
In separate comments on National Public Radio, Rice suggested she was ready to meet her Iranian counterpart, Manouchehr Mottaki, if Tehran agreed to suspend the activity that can be used to make nuclear arms and negotiate the details of the deal.
The package agreed on Thursday carries the threat of U.N. sanctions if Tehran remains defiant over what the West calls a rogue nuclear program that could produce a bomb. The United States, in a major policy shift, conditionally agreed this week to join those talks. It would be the first major public negotiations between the two countries in more than 25 years.
Rice met with the foreign ministers from the European nations that led talks with Iran, which stalled last year. European Union foreign policy chief Javier Solana, Russia's foreign minister and a deputy Chinese foreign minister also attended.
Russia and China might join in any future talks with Iran. Both hold vetoes in the U.N. Security Council, and the United States needs their cooperation to seek sanctions or other harsh measures.
The formal offer of talks are expected to be made by France, Britain and Germany ¡ª the three nations that previously negotiatiated with Tehran. A senior U.S. state department official said he expected Tehran would be invited to begin new negotiations "within a matter of days."