Iraq to ask US to hand over Haditha file
(AP)
Updated: 2006-06-02 19:23
The Iraqi government will ask the United States for the investigative files into allegations that U.S. Marines killed Iraqi civilians in Haditha last year, Prime Minister Nuri al-Maliki said on Friday.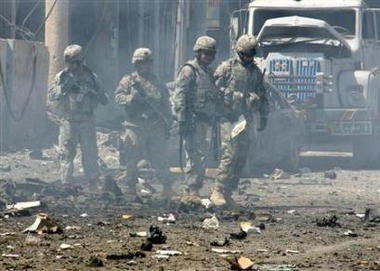 U.S. soldiers inspect the scene after a car bomb exploded in Mosul, May 31, 2006. [Reuters]
Standing beside U.S. Ambassador Zalmay Khalilzad during a visit to a Baghdad power plant, Maliki said he first heard of the alleged November 19 massacre in the western town through the media.
"I hope it (the U.S. investigation) will be fair for the sake of all the victims," said the Shi'ite Islamist whose government of national unity was sworn in 13 days ago.
Asked if he would demand the files, Maliki told reporters without elaborating: "Yes."
U.S. defense officials have said murder charges may be brought against Marines following an investigation into the deaths of 24 civilians in Haditha, which some commentators are comparing to the 1968 My Lai massacre in Vietnam.
President George W. Bush on Thursday promised a thorough independent investigation. "I expect this investigation to be conducted independent of the White House, with a full and thorough investigation," he told reporters in Washington.
Maliki, who has said he is losing patience with reports of killings of Iraqi civilians, condemned the suspected massacre in Haditha as a "terrible crime" on Thursday.
U.S. military spokesmen say three or four other cases involving allegations that U.S. troops killed Iraqi civilians are under investigation.