Former Yugoslav leader Slobodan Milosevic died of natural causes, an official report by the UN war crimes tribunal said, saying it had found no evidence of poisoning or suicide.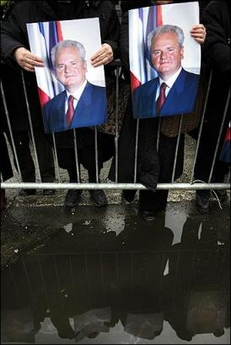 Supporters of late former Yugoslav President Slobodan Milosevic attend a memorial service in Belgrade in March 2006. Milosevic died of natural causes, an official report by the UN war crimes tribunal said, saying it had found no evidence of poisoning or suicide.[AFP]
The report effectively exonerates the International Criminal Tribunal for the former Yugoslavia in The Hague of blame over Milosevic's death of a heart attack, although it acknowledges security failings in his detention unit.
It concluded that the unique arrangement allowing Milosevic to conduct his own defence had "compromised security" which allowed him to get unprescribed medicines.
Milosevic, 64, died suddenly March 11 a few months before the expected end of his mammoth trial here on war crimes over his role in the bloody conflicts in Bosnia, Croatia and Kosovo that tore apart the Balkans.
He was indicted on more than 60 counts including genocide, war crimes and crimes against humanity, including ethnic cleansing in the war in Bosnian and the 1995 massacre of some 8,000 Muslim men and boys at Srebrenica.
The report, conducted by the tribunal's vice president, judge Kevin Parker, found that "proper care" was taken in providing Milosevic medical attention.
"Nothing has been found to support allegations reported in some sections of the media that Mr Milosevic had been murdered, in particular by poisoning," it said.
Previous reports by Dutch authorities had also found that Milosevic died of a heart attack.
On several occasions, medicines that had not been prescribed to him by his Dutch doctors were found in Milosevic's cell, leading some supporters to claim he had been poisoned and some opponents to suggest he committed suicide.
Milosevic's brother rejected the report's findings as "absolutely wrong and incorrect" in an interview with the Interfax news agency in Russia, where he lives.
Borislav Milosevic said the tribunal bore responsibility for his brother's death. "They denied him permission to receive treatment and so deprived him of the right to live," the agency quoted him as saying. "This is like murder."
The court stressed that contraband medication had been found in the cell.
"Medication, rifampicin (a strong antibiotic that would have countered the effects of his heart medication) but also other drugs were found in his cell," ICTY spokesman Christian Chartier said.
The report said that Milosevic may have self-administered rifampicin, which "would support a conclusion that he was manipulating the effectiveness of his prescribed treatment for other purposes, at obvious risk to himself."
According to the report, he refused on several occasions to take prescribed medication and ignored medical advice.
It concluded that the measures taken to allow Milosevic to act as his own lawyer "compromised security" at the UN's detention centre.
"Because of these arrangements, Mr Milosevic was able to obtain medications not prescribed for him by treating doctors."
Chartier said the court was not planning to step up security as the report did not establish a link between Milosevic's death and the medication found in his cell.
Milosevic was the first ex-head of state to appear before an international criminal tribunal and faced life in jail if convicted.
The trial, which began in February 2002, was frequently interrupted because of illness caused by high blood pressure and heart problems.
"The problem appeared progressively. He would be sick, his blood pressure would rise but then it would drop back to normal levels," Chartier said.
The report stressed that lessons should be learnt from the Milosevic trial in determining whether and how a detainee should conduct his own defence.