The leader of South Korea's ruling party resigned Thursday, one day after the conservative opposition won 12 of 16 key regional posts in local elections.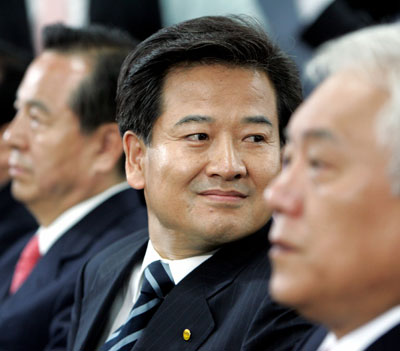 South Korea's ruling Uri Party chairman Chung Dong-young (C) looks back at leaders and members of the party as they watch TV programme reporting exit polls at the party headquarters in Seoul, May 31, 2006. South Koreans voted in local elections on Wednesday to pick mayors, governors and regional assembly members in what is seen as an important test of support for President Roh Moo-hyun and the ruling Uri Party.[Reuters]
Uri Party chairman Chung Dong-young was to speak later Thursday on his decision to step down, said Rhu Hyun-soo, a party spokesman.
The ruling Uri Party took just one race in the elections while the small Millennium Democratic Party won two races and an independent candidate was elected governor of Jeju island.
The Grand National Party, which won 12 posts, had been expected to win big but its landslide victories in some districts further revealed widespread disenchantment with the government.
Uri Party chairman Chung Dong-young has been seen as a leading candidate in presidential elections set for 2007. He had resigned his Cabinet post late last year to seek leadership of the Uri Party.
After exit polls revealed the likely losses late Wednesday, Chung had said he "would humbly accept the public evaluation seen in the election."
Recent polls showed the GNP's popularity surging on nationwide sympathy for chairwoman Park Geun-hye, who was wounded in a May 20 knife assault.