Suspected Taliban attack Afghan town
(AP)
Updated: 2006-05-31 20:05
Hundreds of suspected Taliban fighters attacked a remote central Afghan town Wednesday and briefly occupied its police headquarters after driving out security forces, officials said.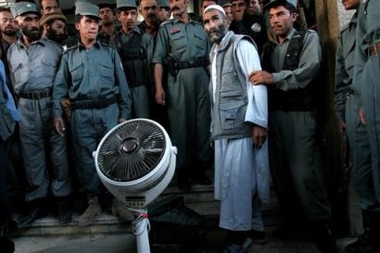 Afgan policemen present the media one of the looters, along with a stolen fan and television a day after protests in Kabul, Afghanistan, Tuesday, May 30, 2006. Rioters on Monday stoned the U.S. convoy involved in the accident, then headed to the center of Kabul, ransacking offices of international aid groups and searching for foreigners while chanting 'Death to America!'. [AP]
The militants took control of the police compound in the Uruzgan province town of Chora around dawn Wednesday, after hours of fighting with 100 police inside the headquarters, said Rozi Khan, the regional police chief.
The militants left the compound by late morning after torching police vehicles, but fighters remained in the area and police weren't immediately returning to Chora, Khan said, citing witnesses in the town.
"If our police go there, they'll be ambushed," Khan said by phone from the region.
Khan said no police were wounded in the battle. He had no details on militant casualties.
Despite an upsurge in violence across southern Afghanistan that has left about 400 people dead since mid-May, it was unusual for militants to manage to force security forces to flee a town.