Iraqi PM in Basra in bid to end violence
(AP)
Updated: 2006-05-31 19:33
Iraqi Prime Minister Nouri al-Maliki arrived in Basra on Wednesday in a bid to stem escalating violence in the southern city.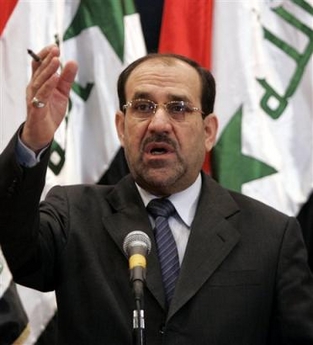 Iraqi Prime Minister Nouri al-Maliki, shown here in a May 9 file photo, told the BBC in an interview that civilian deaths in Haditha last November, allegedly caused by U.S. Marines, were not justified. [AP]
Tensions have been worsening in Shiite-dominated southern Iraq, where Britain has about 8,000 soldiers and other countries also have troops.
Al-Maliki said earlier this week that his trip was an effort to "heal the rift and find a solution for what caused the latest events in Basra." He met with tribal sheiks, city officials, army officers, representatives of the main political parties and local residents. About 700 people gathered at an auditorium to hear his address.
In the months after the 2003 invasion, British troops enjoyed relative peace in southern Iraq compared with the restive Sunni regions further north.
But violence in the region has escalated.
Trouble in the region is due in part to the growing influence of radical cleric Muqtada al-Sadr, who led two armed uprisings against U.S.-led forces in 2004 and who has been an outspoken critic of the U.S.-led foreign military mission.