Goldman Sachs chief Henry Paulson was tapped Tuesday to be the next Treasury secretary by President Bush, who turned to a 32-year Wall Street veteran to help breathe new life into his economic agenda and revive his troubled presidency.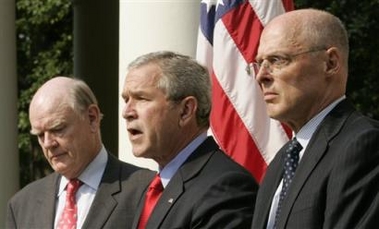 President Bush announces that Goldman Sachs Chairman Henry M. Paulson Jr., right, is his nominee to replace outgoing Treasury Secretary John Snow, left, in the Rose Garden of the White House Tuesday, May 30, 2006 in Washington. [AP]
It marked the latest in a string of major changes in the president's personnel lineup that started two months ago with the replacement of Bush's chief of staff and has grown to include his CIA director, budget chief and top trade representative.
Paulson, 60, was named to succeed John Snow, the former head of railroad giant CSX Corp., who took the Treasury helm in February 2003. Snow, who tendered his resignation Tuesday after a long period of speculation about his job security in the Cabinet, plans to stay on for a bit to ensure a smooth transition.
With a three-decade Wall Street career under his Belt, Paulson has served as the sole chairman and chief executive officer of Goldman Sachs, a global financial powerhouse, since May 1999.
"He has a lifetime of business experience. He has intimate knowledge of financial markets and an ability to explain economic issues in clear terms," Bush said of Paulson, whose nomination is subject to Senate approval.
The White House hopes those credentials will help Paulson, who will be the third Treasury secretary since Bush took office in 2001 to make a more forceful case for the president's economic policies at home and abroad.
There is little expectation of major economic initiatives the rest of this election year, or even during the remainder of the president's tenure.
It also remains to be seen the extent to which Bush will entrust Paulson with forging economic policy. The Treasury Department under Snow and his predecessor, the sharp-tongued Paul O'Neill played a very limited role in the policymaking process, which was tightly controlled by the White House.
On Wall Street, Paulson's nomination failed to ease investor anxiety over climbing oil prices and sagging consumer confidence. The Dow Jones industrials tumbled 184.18 points.