CBS correspondent critical but stable
(AP)
Updated: 2006-05-30 19:41
A CBS news correspondent who had reported on the deteriorating conditions in Iraq for three years was in critical but stable condition at a U.S. military hospital in Germany on Tuesday, a day after a car bomb killed two of her colleagues.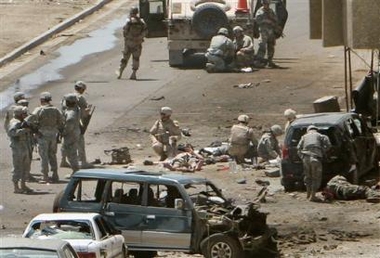 The U.S. military treat wounded at the scene of a car bomb in Baghdad's Tahariyat Square which targeted an American convoy, setting a Humvee on fire, in Baghdad, Iraq Monday, May 29, 2006. CBS cameraman Paul Douglas, 48, and soundman James Brolan, 42, were killed in the attack and correspondent Kimberly Dozier, 39, was critically injured. It was one of eight blasts in Iraq that killed at least 33 people Monday and wounded dozens in the worst wave of violence to hit Baghdad in days. [Reuters]
Kimberly Dozier, a 39-year-old American, had undergone two surgeries for injuries from the bombing before arriving in Germany, said Kelli Edwards, a CBS news spokeswoman. Doctors had removed shrapnel from Dozier's head but said she had more serious injuries to her lower body, CBS News reported on its Web site.
Dozier arrived Tuesday at Ramstein Air Base in Germany to be treated at Landstuhl Regional Medical Center, military officials said. She was in the intensive care unit, and doctors planned a morning briefing to update her condition, CBS reported on "The Early Show."
British cameraman Paul Douglas, 48, and British freelance soundman James Brolan, 42, were killed Monday when a car bomb exploded as they were working on a story about American troops in Iraq on Memorial Day, the network said. The U.S. military said an American soldier and an Iraqi interpreter were killed in the same blast and six American soldiers were injured.
"Our deepest sympathy goes out to the families of Paul and James, and we are hoping and praying for a complete recovery by Kimberly," CBS News President Sean McManus said in a statement.
Dozier's relatives were planning to head to Germany, a man who answered the phone at her mother's home in Maryland said Monday night. The Landstuhl Regional Medical Center in southern Germany is the U.S. military's largest overseas hospital.