Rescuers said Tuesday that hopes were waning of finding more survivors from a devastating earthquake that killed more than 5,400 people in central Indonesia.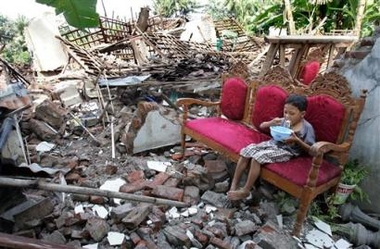 A young earthquake victim eats breakfast near his destroyed home at Bantul, Indonesia, Monday, May 29, 2006, in Bantul, Indonesia. The government lowered the official death toll from Saturday's 6.3-magnitude quake on Java island from nearly 5,000 to 4,315, after revising figures for the hard-hit district of Klaten. An estimated 200,000 people have been left homeless, most of whom are now living in shacks close to their former homes or in shelters put up in rice fields. [AP]
The bleak assessment from the head of Malyasia's rescue team came as homeless survivors living in rice fields and makeshift shacks begged for food and water.
Soldiers on Monday began delivering bags of rice to village chiefs in the mountainous quake zone on the island of Java, but survivors called the aid meager and slow. The United Nations planned a global appeal, saying relief money was running low.
"We have 300 families in this village and have only gotten two sacks of rice," said Lastri, 27, holding a 5-month-old. "It's not enough."
Indonesia's Social Affairs Ministry on Tuesday raised the death toll to 5,427.
The head of an emergency response team from Malaysia said it didn't expect to find any more survivors or bodies under the rubble.
"The collapsed homes were all so small that anyone who was trapped would have been extracted by their family members," said Supt. Abdul Aziz Ahmad.
He said his team had only found one body on Monday.
Thousands of people including children and the elderly lined main roads in the area of Saturday's 6.3-magnitude quake, holding out whatever containers they could find to hold donations to buy rice, oil and candles.
"Please give me something, I'm hungry," 7-year-old Sari told passing drivers, standing beside a group of children carrying banners that read "We have not gotten any aid" and "Help us."
A plane chartered by the U.N. children's agency touched down near the disaster area, and the United States, which pledged $2.5 million, said 100 military doctors and nurses were en route with surgical, dental and other equipment.
But rough roads in mountainous central Java and new cracks in the runway at the region's main airport hampered delivery efforts.
In Jamprip, a village of 300 families, Edi Sutrisno, 37, helped unload aid from a military truck - two bags of rice, nine boxes of dried noodles and two boxes of bottled water.
"It's the first we've gotten since the quake," he said. "Of course it's not enough for all of us, not even for a day."
A group of teenagers raced up to a slowing truck and managed to steal supplies off the back, but their excitement was short-lived.
"I thought it was food, but it was just soap and toothbrushes," said Andi Marwanto, 16.
The government said an estimated 200,000 people were homeless, most living in improvised shacks close to their former homes or in shelters erected in rice fields. Hospitals overflowed with bloodied survivors. Power was still out in much of the quake region, which covers hundreds of square miles.
Compounding the devastation were fears of an eruption of nearby Mount Merapi, which has been belching gas and lava for weeks, and a scientist said its volcanic activity had increased threefold since the quake.
Lava and hot clouds of gas were avalanching 2 1/2 miles down the volcano's slopes Monday, said volcanologist Subandriyo, who like many Indonesians uses only one name.
President Susilo Bambang Yudhoyono visited refugees Monday and acknowledged a "lack of coordination" in aid distribution. He urged government officials to be "more agile."
"I saw in many areas that there are many things that need to be speeded up," said Yudhoyono, who moved his office to the ancient city of Yogyakarta to supervise relief operations.
A UNICEF plane loaded with water, tents, stoves and cooking sets arrived Monday in Solo, a city about three hours' drive from the hardest-hit district of Bantul.
On Sunday, three U.N. trucks brought high-energy biscuits to survivors and two Singapore military cargo planes arrived with doctors and medical supplies.
Some 22 countries have contributed or pledged assistance, the U.N. Office for the Coordination of Humanitarian Affairs said in Geneva. The agency said it has released $100,000 in emergency funds to jump start the relief effort, but said it will need much more.
Indonesia said it hoped foreign aid would account for 50 percent of the $108 million to $161 million in estimated rehabilitation costs.
The quake was the fourth destructive temblor to hit Indonesia in the past 17 months, including the one that spawned the Dec. 26, 2004, Indian Ocean tsunami that left at least 216,000 dead or missing.
The country also is battling a bird flu crisis and a spate of terror attacks by al-Qaida-linked Islamic militants.
Indonesia, the world's largest archipelago, is prone to seismic upheaval due to its location on the so-called Pacific "Ring of Fire," an arc of volcanos and fault lines encircling the Pacific Basin. It has 76 volcanos, the largest number of any nation.