6 world powers to discuss Iran in Vienna
(AP)
Updated: 2006-05-29 21:56
The five permanent members of the U.N. Security Council and Germany will meet in Vienna later this week in hopes of approving a package of incentives and penalties meant to persuade Iran to give up uranium enrichment, diplomats said Monday.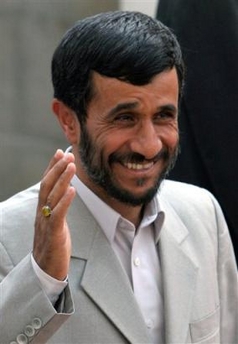 Iranian President Mahmoud Ahmadinejad, waves to photographers as he waits for Afghan President Hamid Karzai, unseen, prior to a welcoming ceremony for Karzai, in Tehran on Saturday May, 27, 2006. [AP]
The diplomats, who demanded anonymity for divulging the confidential information, told The Associated Press the meeting will take place Thursday.
The meeting is a follow-up on talks in London last Wednesday, where senior representatives of the United States, Russia, Britain, France, China and Germany said they made good progress in efforts to find common ground on rewarding Iran if it gives up uranium enrichment or punishing it if it doesn't.
The foreign ministers of the six nations would have to give final approval to the package. Then it would formally be presented to Tehran by France, Britain and Germany ¡ª the three European nations who broke off similar talks with Iran in August after it resumed activities linked to uranium enrichment, which can be used to make the fissile core of nuclear warheads.
Iran, which insists it has a right to the technology to make nuclear fuel, has repeatedly said nothing can make it relinquish its fledgling enrichment program.