Indonesia deployed two battalions of soldiers to speed the distribution of water, food and shelter to 200,000 people left homeless by the May 27 earthquake that killed at least 5,136 people and injured more than 7,000 others.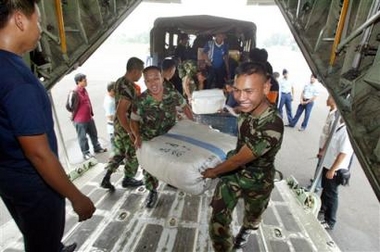 Military personnel load relief supplies for earthquake survivors in Java, onto a cargo plane in Jakarta, Indonesia, Monday, May 29, 2006. [AP]
Aid agencies such as the International Federation of Red Cross and Red Crescent Societies supplied 2,000 tents for 10,000 people in areas south of Yogyakarta and are transporting tents used for survivors of the 2004 tsunami in Aceh. The World Food Program will start distributing 100 metric tons of fortified noodles and other food today, agency spokesman Barry Came said.
"Over the weekend, we deployed at least two battalions of the military to join aid workers to find victims and survivors under the debris," Gozali Situmorang, director general of aid management at the Social Affairs Ministry, said today in a telephone interview.
The government has declared a three-month emergency in the region to help accelerate aid distribution after the magnitude 6.3 earthquake, the third natural disaster to hit the Southeast Asian nation in 17 months. President Susilo Bambang Yudhoyono is camping in the area to oversee relief efforts. The Indonesian army repaired damage to Yogyakarta airport, which will help boost aid efforts, Howard Arfin, a spokesman for the International Red Cross, said.
Indonesia plans to spend 1 trillion rupiah ($108 million) to rebuild homes and provide aid, Muklis Hasyim, spokesman for Indonesia's Vice President Jusuf Kalla said in an interview.
The amount is based on an assumption that 4,000 people were killed in the temblor, 50,000 displaced and 35,000 houses damaged. The government will spend 75 billion rupiah on aid in the three months to August and the balance over the next 12 months on rehabilitation and reconstruction, Hasyim said.
At least 3,080 people were killed in the worst-hit Bantul district in the southwest of Yogyakarta, and more than 1,500 in Klaten district of neighboring Central Java province, said Ari Widyanto, an officer on duty at the Social Affairs Ministry's earthquake hotline.
The Indonesian government said at least 24,819 households have been affected by the earthquake. An estimated 200,000 people were left homeless by the disaster.
Indonesia yesterday appealed to the international community for humanitarian aid for survivors of the quake that struck at 5:54 a.m. local time on May 27. Aid pledges rose to about $17 million, according to news reports.
The Asian Development Bank and the World Bank may provide a total of $120 million to help in the reconstruction of houses in Yogyakarta, Finance Minister Sri Mulyani Indrawati told reporters in Jakarta today.
The quake struck about 60 kilometers (37 miles) south of Mount Merapi, a volcano that has threatened to erupt this month, meaning aid agencies were relatively prepared. Oxfam and other groups had shelter materials and water and sanitation equipment ready in Yogyakarta city.
"The contingency planning we'd been doing for a possible eruption of the Merapi volcano has meant we have immediate access to stocks of equipment stored locally," said David Macdonald, Oxfam's country program manager for Indonesia.
Nations including Singapore, one of Indonesia's closest neighbors, sent teams and emergency supplies, adding to rescue efforts and helping hospitals in Yogyakarta, which are lacking doctors, medical supplies and tents.
South Korea is sending a 15-member medical team to Jakarta, Italy has pledged an airplane with 155,000 euros of humanitarian aid, including blankets, first-aid equipment, water pumps and generators for electricity, and France will send medical officials and humanitarian aid.
Pledges of aid are growing. U.K aid amounts to 4 million pounds ($7 million), the government's department for international development said in a statement yesterday.
The European Commission has pledged 3 million euros ($3.8 million) in immediate funding, while the U.S. offered $2.5 million. China offered $2 million and Canada $1.8 million, Agence France-Presse reported.
Indonesia, the world's largest archipelago, is prone to earthquakes because the country sits along the Pacific Ocean's so-called Ring of Fire zone of active volcanoes and tectonic faults. Its 18,000 islands have 129 active volcanoes.
There were two aftershocks of 4.8 and 4.5 magnitude after the quake with the last one occurring at 11:21 a.m. on May 27, according to the USGS Web site.
A 9.1-magnitude earthquake struck near the island of Sumatra on Dec. 24, 2004, producing a tsunami that left more than 220,000 people dead or missing in countries around the Indian Ocean, mostly in Indonesia. An 8.6 magnitude earthquake in March 2005 in the same region left more than 1,300 people dead.