Assistance is flowing from all over the world to the earthquake-hit Indonesian province of Yogyakarta on Sunday as thousands of residents face post-quake problems, including diseases, homeless and food shortage.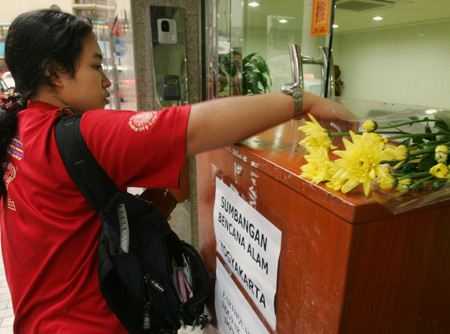 An Indonesian domestic helper donates money to victims of Yogyakarta earthquake at the Indonesian Consulate in Hong Kong May 28, 2006. A powerful earthquake that shook Indonesia's royal city of Yogyakarta on Saturday killed nearly 3,000 people as houses and government buildings collapsed near ancient heritage sites in the area.[Reuters]
Neighboring Malaysia and Singapore said that they would immediately send and had sent medical and rescue teams as well as other assistance to the devastated town where thousands of buildings collapsed, The Jakarta Post newswire reported.
Prime Minister Lee Hsien Loong has offered humanitarian relief assistance in the form of a-35 member Armed Forces Medical Team, a 43-member Civil Defense Force Disaster Assistance and Rescue Team, as well as US$ 50,000 worth of emergency supplies, it said, quoting remarks from the Singaporean embassy.
A similar statement came from Malaysian embassy in Jakarta, saying that its government had sent one ton of medicine and medical supplies and a team of paramedics as well as 56 personnel from Search and Rescue team.
The Chinese government decided on Saturday to offer an urgent aid of US$2 million in cash for quake-hit Indonesia and will also offer rescue personnel and materials according to the situation of the disaster.
On Sunday, a Japanese medical team left Tokyo for Yogyakarta to join rescue efforts following the powerful earthquake.
Meanwhile, the World Food Program was sending a plane with two tons of relief supplies and UNICEF is sending 9,000 tarpaulins, 2, 000 tents, health kits and hygiene kits, it said.
Canada has committed 1.8 million dollars to assist victims of Saturday's devastating Indonesian earthquake that left thousands dead and decimated homes and hotels in the country's central region.
"On behalf of all Canadians, I wish to extend our sympathies to the families and friends of those who lost their lives and to those communities hit by this dreadful act of nature," said Canadian Foreign Affairs Minister Peter MacKay.
Australia will also send 3 million Australian dollars (US$2.27 million) in emergency aid to victims of the latest Indonesian earthquake, the foreign minister said Sunday and the United States allocates US$500,000 for the earthquake victims.
The European Union on Saturday also granted up to 3 million euros (US$3.8 million) in emergency aid to help Indonesia's quake victims.
A powerful earthquake measuring 5.9 on the Richter scale struck the Indonesian ancient province of Yogyakarta and part of Central Java province Saturday morning, killing more than 3,500 people and injuring 10,000 more others.
Some 4,000 houses have been flattened and roads and bridges destroyed in the worst quake in the Southeast Asian country since December 26, 2004, when an earthquake triggered a tsunami that killed more than 230,000 people in countries surrounding the Indian Ocean.