A powerful earthquake rocked Indonesia's main island of Java, killing at least 1,700 people, injuring thousands more and causing mass destruction.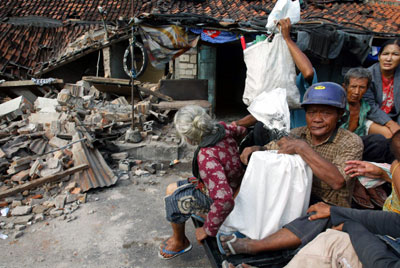 Residents leave their homes after earthquake in Yogyakarta, central Java, May 27, 2006. An earthquake that shook the area around the ancient royal city of Yogyakarta early on Saturday has killed at least 244 people and injured many more, according to hospital staff. [Reuters]
Thousands of families fled their homes in panic after the 6.2 magnitude quake struck early in the morning, many running for higher ground amid false rumours of a tsunami like the one that devastated the country in December 2004.
Many could not escape in time and were buried under the rubble of collapsed buildings or struck by flying rocks and debris as the temblor devastated towns and villages cities across the south of the island.
Hospitals in the densely-populated ancient city of Yogyakarta, located in the shadow of the simmering Mount Merapi volcano, were overflowing with casualties. Hundreds lay injured outside awaiting medical attention.
Rescue and relief workers rushed to the worst-hit areas and officials told AFP that the death toll would inevitably rise as more bodies were uncovered in the rubble.
Witnesses told Elshinta radio that hundreds of houses partially or entirely collapsed in the badly hit Bantul and Kulonprogo districts south and southwest of Yogyakarta.
The quake struck just before 6:00 am local time around 40 kilometres (25 miles) south of the city, rattling a region that had been on edge for weeks amid fears the lava-spewing Mount Merapi would erupt.
"I was shaken from my bed," Brook Weisman-Ross, regional disaster coordinator for the children's charity Plan International, told the BBC.
"As furniture was falling, concrete chunks started falling from my hotel room as people were running out in panic in their bedclothes," he said.
"The earthquake was felt to be massive -- larger than the locals here say they've felt in their lives."
An official at the social affairs ministry's disaster relief center, Desi Desmawati, told AFP 1,700 fatalities had been reported from five districts in Yogyakarta and Central Java provinces
She said at least 370 houses were destroyed in one district alone.
Heru Nugroho, spokesman for the state-run Sardjito hospital in Yogyakarta, located around 400 kilometres (250 miles) east of the capital Jakarta, told AFP 1,500 victims were being treated at the hospital, many of them in the hallways.
Pictures showed people of all ages with broken arms and legs and bruised faces laid out on tiled floors covered in blood waiting for attention. Bodies were covered with bedsheets.
The quake also forced the closure of Adisucipto airport in Yogyakarta, Detikcom news portal said. The airport was badly damaged, with the roof of an airport section collapsing and at least one person trapped, Metro TV reported.
Flights have been diverted to the nearby city of Solo.
Meteorologists said the quake measured 5.9 on the Richter scale, but both US and Hong Kong monitors registered it at 6.2. Seismologists said the quake would not increase the likelihood of an eruption at Merapi.
President Susilo Bambang Yudhoyono ordered Health Minister Siti Fadillah Supari and Social Affairs Minister Bachtiar Chamsyah to travel to Yogyakarta immediately to oversee rescue efforts.
"The President is deeply concerned," presidential spokesman Andi Malarangeng told a press conference.
Malarangeng said that the president also ordered military chief Air Marshal Djoko Suyanto to send in troops to help evacuate victims.
Yudhoyono himself was to visit the region on Sunday, he said.
Yogyakarta province police chief Bambang Hari Sampurnojati told local radio that the earthquake was reportedly followed by tidal waves, striking panic in a nation that was the worst hit by the 2004 Indian ocean tsunami.
"We panicked when we heard that there was a tsunami. We were ready to flee," Yogyakarta resident Clemon Cilik told the state Antara news agency.
Weisman-Ross was in the area working on the evacuation of residents living near Mount Merapi, which has been spewing heat clouds amid fears of an imminent eruption. Some 20,000 people were staying in emergency shelters.
"Aftershocks could potentially do more damage to the buildings that are weak," he told CNN.
Damage was hampering the rescue effort, Sampurnojati said, with police headquarters in the city cut due to a blackout following the quake.
"Electricity is out and communication is difficult," he told ElShinta.
Indonesia sits on the Pacific "Ring of Fire", where the meeting of continental plates causes high volcanic and seismic activity.
An official at the meteorological office said the quake was not related to the volcano, which has been rumbling in recent weeks.
Scientists have warned that although the magma flow that forms a dome at the Merapi peak appears to be weakening, the structure may collapse and spew out millions of tonnes of volcanic rock and lava.