In a bold initiative, the Palestinian president gave Hamas 10 days to accept the idea of a Palestinian state alongside Israel, saying Thursday he'll submit the plan to a referendum by mid-July if the Islamic militants refuse.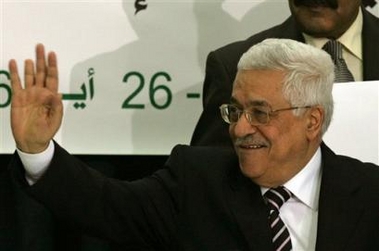 Palestinian Authority President Mahmoud Abbas also known as Abu Mazen, waves during the Palestinian National Dialogue Conference at his offices in the West Bank town of Ramallah, Thursday, May 25, 2006. In a surprise ultimatum, Abbas said Thursday he will call a national referendum on accepting a Palestinian state alongside Israel if Hamas does not agree to the idea within 10 days. The referendum represents a political gamble that could either help resolve the Palestinians' internal deadlock or lead them deeper into crisis.[AP]
Mahmoud Abbas' surprise announcement is a political gamble that could either help resolve the Palestinians' internal deadlock or lead the Hamas-led government and Fatah into a deeper crisis.
Abbas asked Hamas to endorse a document drawn up by senior Palestinian militants imprisoned in Israel. It accepts statehood in the West Bank, Gaza Strip and east Jerusalem territories captured by Israel in the 1967 Middle East War.
Approving the document would imply recognition of Israel, one of the three conditions imposed by Israel and the West for doing business with the Hamas-led government. The document falls short of meeting the other two conditions, renouncing violence and accepting past peace accords, so it was unclear if the international boycott would be called off even if Hamas acquiesced.
However, a referendum, which Palestinian pollsters expect to pass, could provide cover for the militants to become more moderate without appearing to succumb to Western pressure. Such a vote could also renew pressure on Israel to return to the negotiating table rather than impose borders on the Palestinians.
As Abbas outline his proposal, violence again erupted in Gaza.
A group of policemen on their way back from the funeral of a top security commander in Gaza City clashed with a newly formed Hamas militia, and one of the officers was wounded, security officials said.
At nightfall, three officers in the presidential guard were shot and wounded on patrol in Gaza City, officials said. They said the gunfire came from the direction of a Hamas militia unit. In the past week, 10 people have been killed in clashes between Hamas and Abbas' Fatah Party.
Fatah and Hamas leaders held talks in Ramallah and Gaza to defuse the crisis, and Abbas used the opportunity to challenge Hamas to adopt a program that implies recognition of Israel or to let the people decide.
Hamas, which is facing a crippling international boycott because of its refusal to moderate its position, appeared to be divided over the idea. The Islamic militants won parliamentary elections in January, and took over the Palestinian Authority on Feb. 18. Abbas was elected separately a year earlier.
The plan was conceived in a wing for 120 Palestinian security prisoners at Hadarim prison, with many sessions taking place in the prison yard, said Khader Shkirat, a lawyer for a key signer, Fatah leader Marwan Barghouti. An inmate from Hamas also signed the document.
Hamas ideology does not accept a Jewish state in the Middle East, and Hamas does not accept interim peace accords with a state it does not recognize. Hamas suicide bombers have killed hundreds of Israelis over the past decade.
Abbas has been seeking to counter Hamas' power, removing authority over security forces from the Hamas-controlled Interior Ministry and asserting he has the authority to conduct peace negotiations with Israel.