China Mobile Communications Corp. is near a $5.3 billion pact to acquire Millicom International Cellular SA of Luxembourg, operator of mobile-telephone services in many of the world's poorest nations, in a move that would expand China's influence into international telecommunications, especially in emerging markets.
The expected deal -- the biggest overseas acquisition by a Chinese company -- could also have a ripple effect on Chinese suppliers of telecom equipment and mobile handsets such as Huawei Technologies Co. and ZTE Corp. China Mobile is expected to upgrade the network of Millicom, which operates in 16 countries.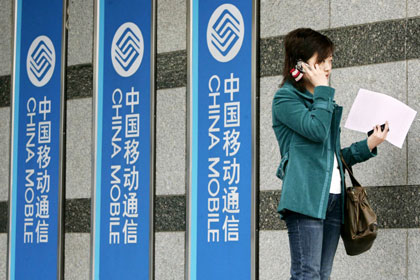 A Chinese woman talks on her mobile phone outside a China Mobile office in Beijing March 17, 2006. The company is reportedl near a $5.3 billion pact to acquire Millicom International Cellular SA of Luxembourg. [Reuters]

Gao Songge, deputy director of the General Department of China Mobile, said that "the talks are still going on. ... There's no news for disclosure for now." A spokesman for Millicom declined to comment.

The deal, which could be signed within days, is the latest sign of Chinese companies' ambitions in snapping up international assets. After watching Western companies invest billions in their home market, Chinese companies in recent years have been looking at purchases abroad, most notably with Lenovo Group Ltd.'s purchase of the personal-computer division of International Business Machines Corp. For China's government, the expansion of Chinese companies overseas is part of a broader push to expand the country's global influence.

But Chinese oil company Cnooc Ltd. last year failed in its high-profile $18 billion bid to take over Unocal Corp. after opposition to the deal from Congress. That led to great frustration in China, and Chinese companies increasingly are looking instead toward the world's faster-growing emerging markets.

State-owned oil company CNPC International Ltd. last year paid $4 billion for Petrokazakhstan Inc., which controls oil fields in Kazakhstan. Other recent Chinese deals have been completed in Nigeria, Ecuador and Peru, and more are being sought in Russia and Sri Lanka.

China Mobile plans to leverage its access to inexpensive and plentiful engineers, designers, contractors and others needed to build new Millicom networks, or to upgrade existing networks in its far-flung locales, according to people familiar with the matter.

Emerging markets represent a particularly attractive market for telecom companies as Western markets become saturated. In many developing nations, the fixed-line infrastructure is poor and limited in its range, so cellular networks, which are cheaper to roll out than traditional lines, are used as the primary means of communication.

China Mobile has built one of the most extensive national cellular networks in the world, covering all of mainland China. With more than 250 million wireless customer accounts as of last month -- all in China -- China Mobile is by far the world's biggest wireless carrier and controls about two-thirds of the mobile market in China.

China Mobile is owned by China's government. The company owns about 75% of China Mobile (Hong Kong) Ltd., which is listed in Hong Kong and on the New York Stock Exchange.

Nasdaq-listed Millicom would be China Mobile's first overseas acquisition. China Mobile is in the final stages of inking an agreement to buy Millicom for $48 a share in cash, according to people familiar with the situation. The deal still hinges on several layers of administrative approvals in China and will be contingent on the Chinese company receiving at least 75% of Millicom's shares. Millicom's shares rose $1.24 to $45.04 in 4 p.m. Nasdaq Stock Market trading.

Millicom is about 40%-owned by Investment AB Kinnevik, a Swedish family-controlled holding company, and a private Swedish trust.

The deal would give China Mobile, which has so far operated only as a domestic company, experience owning a multinational concern. Millicom's executive team is known in the industry as a group with a particular savvy at selling cellphones and building networks in often-inhospitable environs in Asia, Africa and Central America.

Millicom reported a 16% rise in subscribers for the first quarter and a profit of $33.4 million, compared with a loss of $11.3 million a year earlier. The company, with about 10 million subscribers, said revenue rose 20% to $322 million, compared with the year-earlier period.