Nike said on Tuesday that it is making running shoes that will tell the wearer how far and how fast he or she has run and how many calories they have burned.
The instant information will come from a miniature Apple Computer iPod and a new wireless system called Nike+iPod.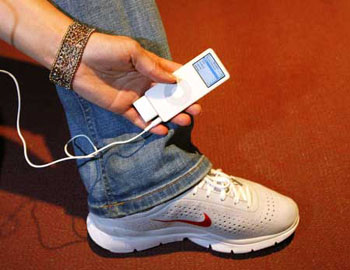 IPod portable digital music players are quite popular with runners, 75 per cent of whom already listen to music while they exercise.
Using a Nike+iPod Sports Kit, expected to sell for about US$29, miniature versions of the iPod will be able to give audio data on time, distance, pace and calories burned on-demand through an attachable receiver that gets data from a sensor in the insole of special Nike shoes.
The new Air Zoom Moire line of running shoes priced at US$100 are the first to have space for the sensor, but others will follow, Nike said. The removable sensor, about the size of a piece of bubble gum, can be used with any compatible shoe.
In 2004, archrival Adidas-Salomon AG launched a so-called "smart shoe," embedded with a computer chip and a motor that constantly adjusts the shoe's cushioning to suit the runner's needs.
But Nike Chief Executive Mark Parker said such a "smart shoe," would not, by itself, be able to access relevant data until after the run was done and the shoes had been removed.
"We realized making a smart shoe wasn't really smart enough," Parker said at a New York launch event.
Nike, the world's biggest maker of sports shoes and apparel, also launched a line of performance clothing, including jackets, shirts and shorts, that holds iPods and keeps wires untangled and out of sight.
"We share the same types of consumers (with Apple)," said Trevor Edwards, Nike's vice-president of global brand management. "We know that these two brands work really well together."
A 2002 deal between Nike and the Netherlands' Philips Electronics that resulted in a portable digital music player that tracked time and distance fizzled, Edwards said, because of differences in the two companies' target consumers.
Apple came to Nike after it separated from Philips.
"We both had a mutual interest in pursuing (an) opportunity in this area," Parker said. "Not for Nike to get into the mp3 market per se, but for Nike to establish an opportunity with somebody who is really leading in that area."
Apple, which has shipped over 50 million iPods, controls 77 per cent of the US market for portable digital music players, according to market research firm NPD Group.
Analyst John Shanley of Susquehanna Financial Group said the Nike+iPod launch was innovative but would not appeal to the company's core base of teenage boys.
"Is it going to move the needle in terms of them selling more footwear?" he asked. "Probably not."
The connector kit will be available in both Nike and Apple stores within two months, the companies said.