Fighting in rugged southern Afghan mountains killed at least 24 militants and five Afghan forces, while the US military acknowledged Wednesday that the Taliban have grown in "strength and influence" in recent weeks.
The violence came after a week of some of the deadliest violence since the Taliban regime's ouster in 2001. As many as 336 people have died, mostly militants, according to Afghan and coalition figures.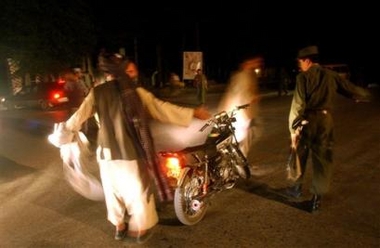 An Afghan security official search a man after explosions were heard in Heart city, southwest of Kabul, Afghanistan on Tuesday, May 23, 2006. The three explosions went off in Heart, western Afghanistan, but no injury was reported, witnesses said. [AP]
The Afghan military commander for southern Afghanistan, Gen. Rehmatullah Raufi, said up to 60 rebels had died in the latest fighting in Uruzgan province, which involved ground forces and a US airstrike. The US-led coalition, however, said 24 militants had died.
It was not immediately clear why there was a discrepancy in the numbers, which were impossible to confirm independently because the scene of the fighting was remote and insecure.
The fighting erupted after militants hiding in a mountain compound in a small village in Tirin Kot district fired small-arms, rocket-propelled grenades and mortars at a joint Afghan-coalition patrol late Tuesday, according to two separate U.S. military statements.
The troops fought back for six hours, forcing the militants to retreat before they tried to bring in reinforcements from two nearby compounds, the statements said.
The forces then called in air support. American bombers and unmanned Predator aircraft, along with French and British fighter jets, dropped bombs and fired rockets at the militants.
Besides the troops and police that were killed, six Afghan soldiers and three police were wounded, one of the statements said.
In the past year, Uruzgan's largely inaccessible mountains have been the site of some of the heaviest fighting, but militants suffered high losses in multiple battles with coalition forces, and the violence there had subsided in recent months.
Uruzgan was one of three southern provinces where US military spokesman Col. Tom Collins said the insurgents have bolstered their numbers.
"We know for a fact that in recent weeks they have grown in strength and influence in some parts of Kandahar, Helmand and Uruzgan," he told a news conference in Kabul. "There is a hard-core group of Taliban fighters, certainly numbering in the hundreds."
He said the militants are recruiting poor villagers.
"They prey upon people who don't have a lot of hope. They recruit people to join their cause," he said. "These people may not believe much in the cause, but they need a job."
Meanwhile, a British military C-130 cargo aircraft carrying the British ambassador caught fire while landing at an airstrip in Helmand, said Sgt. Chris Miller, a spokesman for the U.S.-led coalition.
He said one of the plane's tires burst when it hit the ground at the airstrip in Lashkargah in Helmand province, sending debris into an engine, which then caught fire. No one was hurt and there was no hostile fire involved, he said.
Separately, a district chief, a judge and two guards from the Shahrak district of Ghor province were killed by a group of armed men who ambushed their car Tuesday evening, said Karimuddin Rezazada, the deputy governor of Ghor province.