Italy's new prime minister Romano Prodi won the final seal of approval from parliament on Tuesday, allowing his centre-left government to get on with running a country whose public finances are spiraling out of control.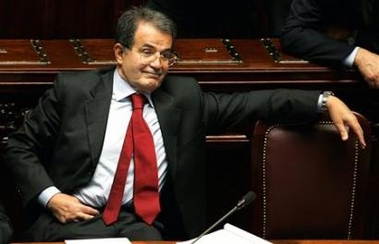 Italian Prime Minister Romano Prodi listens to a speech at the parliament in Rome, May 22, 2006. [Reuters]
Prodi's victory in the lower house, where he enjoys a much bigger majority than in the Senate (upper house), had been expected. The chamber passed the confidence vote, the last step in the transition from Silvio Berlusconi's record five-year stint in power, with 344 "yes" and 268 "no" votes.
"It could not have been better than this," Prodi, who won a parliamentary election last month by a razor-thin margin, told reporters after the vote.
But the good news ended there for Prodi as the Organization for Economic Co-operation and Development (OECD) warned that his government may be too weak to achieve badly needed but unpopular economic reforms.
Prodi told parliament ahead of the vote his priority was to drag Italy out of stagnation and stem a growing budget deficit which he said was in a critical state.
"We have gone back under the spotlight of the international markets. In the next few weeks we will take decisions on how to move," Prodi said, without specifying any policies that would likely have to include spending curbs and tax hikes.
Prodi based his election campaign on a promise of "serious" government compared with Silvio Berlusconi's tax-cutting stance, but denied accusations by his centre-right rival that once in power he would raise taxes across the board.
In its twice-yearly report on economic outlook, the
Paris-based OECD said Prodi's pledge to push through economic reforms was undermined by his slim parliamentary majority.
"Political risks seem especially high," the OECD said of Prodi's ability to enact structural reforms.
"It may be difficult to undertake reforms given the thin parliamentary margins and fragmented nature of the ruling coalition," it said.
Prodi's government is drawn from eight parties stretching from Roman Catholic moderates to committed communists.
It has a majority of nearly 70 seats in the lower house, despite its slim election victory, thanks to an electoral system which handed a bundle of extra seats to the winning coalition.
But in the upper house it enjoys only a two-seat majority, which is likely to make life hard for Prodi as he will have to rely on the loyalty of his unwieldy allies to pass any laws.
Underscoring the narrow room for maneuver, the Senate approved the new government last Friday by 165 votes to 155. The margin was boosted by Italy's seven unelected senators for life and one independent senator.
One of Prodi's first major decisions will be whether to adopt a "mini budget" to rein in the 2006 budget deficit which Berlusconi's government forecast at 3.8 percent of GDP, but which deputy economy minister Vincenzo Visco said was more likely to be 4.5 percent without new corrective measures.
Berlusconi, narrowly defeated in the election, repeated his hope that a parliamentary commission would find "irregularities" in the April 9-10 election result and overturn Prodi's win.
Berlusconi told a TV chat show late on Monday that if the election were re-run now, an opinion poll he commissioned showed his coalition would win 52.8 percent of the vote against 46.7 percent for Prodi's bloc.
That claim will be put to the test on Sunday and Monday when many Italians go to the polls again in local elections to elect the mayors of large cities, including Rome and Milan.