A top Hamas fugitive blamed for attacks that killed dozens of Israelis and five Americans surrendered to Israeli troops Tuesday after they ringed his West Bank hideout and threatened to demolish it with him inside.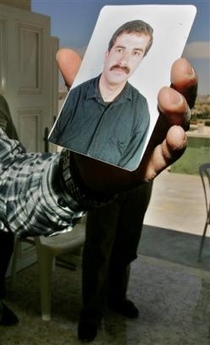 A Palestinian relative of the West Bank's commander of Izzedine al Qassam, the Hamas military wing, Ibrahim Hamed, 41, who was arrested by Israeli troops, holds his portrait at the family house in the West Bank village of Silwad near Ramallah, Tuesday, May 23, 2006. Hamed, who is linked by Israel to attacks that killed 78 people, including five Americans, surrendered Tuesday after Israeli troops surrounded his hideout and threatened to demolish it with him inside. [AP]
The capture of Ibrahim Hamed, 41, was a blow to Hamas' morale as the Islamic militants engaged in an increasingly bloody power struggle with gunmen and police loyal to Palestinian President Mahmoud Abbas.
In Gaza City, a high-level meeting of the rival camps, aimed at reducing the tension, produced no results. However, Palestinian Prime Minister Ismail Haniyeh of Hamas insisted the violence would not lead to civil war.
Abbas' Fatah movement demanded that Hamas withdraw its 3,000-strong force of militants it deployed last week, but Haniyeh was non-committal. Instead, the prime minister said he would urge his supporters to show restraint and soften their rhetoric.
The Hamas-Fatah talks came after two weeks of deadly clashes that left eight people dead, including an aide to the Jordanian ambassador who was caught in crossfire Monday.
The fighting has been confined to Gaza, where Hamas is strongest. In the West Bank, still under Israeli control, Hamas militants largely remain underground to avoid arrest, and Fatah gunmen outnumber those of Hamas.
The increasingly unstable situation in the Palestinian territories was the backdrop to a scheduled meeting in Washington on Tuesday between President Bush and Israeli Prime Minister Ehud Olmert. The U.S. is encouraging Israel to talk to Abbas as a way of bypassing the Hamas-led Palestinian Authority, said White House press secretary Tony Snow.
Tuesday's arrest of Hamed, the West Bank commander of the Hamas military wing, came as a further setback to the group. Hamed, described as charismatic leader, had evaded Israeli troops for eight years.
Israel said Hamed masterminded a series of attacks that killed 78 people, most of them Israelis, but also five Americans who died in a 2002 blast at the cafeteria of the Hebrew University of Jerusalem.
Army Col. Amir Abulafiyeh, who oversaw Tuesday's capture, described Hamed as "creative and cruel" in plotting attacks on an Israeli fuel depot, Israel's rail system, a university cafeteria and a pool hall.
Abulafiyeh said Hamed recruited some of the assailants at the West Bank's Bir Zeit University, where he earned degrees in history and political science in 1993.
Before dawn Tuesday, troops surrounded Hamed's hideout in a two-story building in a well-to-do district of Ramallah, just 200 meters (yards) from Abbas' residence. The colonel said troops acted on a precise tip about Hamed's whereabouts, but weren't sure whether he was alone and whether he had weapons and explosives.
A dozen jeeps and two armored personnel carriers surrounded the building and soldiers called on Hamed over loudspeakers to surrender. Soldiers speaking in accent-free Arabic warned him that the building would be razed if he did not come out. Witnesses said an army bulldozer rammed against the metal shutters of a ground floor shop when Hamed didn't move.
After half an hour, he emerged, wearing a light-colored shirt and gray pants.
Following instructions over the loudspeaker, he took off his shirt and pants, then walked toward the soldiers in his underwear. Palestinian militants surrendering to troops are routinely asked to strip to make sure they don't carry explosives.
After the arrest, soldiers entered the building and blew out the doors and windows in two top-floor apartments, as a robot searched for explosives. Troops removed clothes from the building, and found two loaded pistols. The two apartments were sparsely furnished with bamboo chairs and mattresses.
Hamed's nephew, Ayman, said his uncle was wanted by Israel since 1998. For some time, he was held in a Palestinian jail for involvement in the Hamas military wing, but was released in 2002, during a major Israeli military offensive in the West Bank. Hamed grew up in the West Bank village of Silwad, near Ramallah, and belongs to the same clan as Khaled Mashaal, the top Hamas leader based in Damascus.