Greek, Turkish military planes collide
(AP)
Updated: 2006-05-23 20:29
A Greek fighter jet and a Turkish warplane collided Tuesday near the island of Karpathos in the Aegean Sea, the Greek government said. A rescue operation was launched for the three missing pilots, two Turks and one Greek.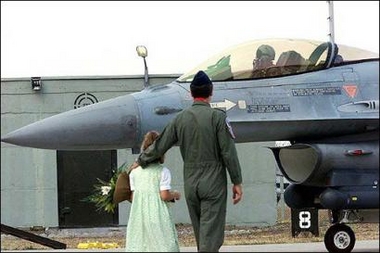 A Greek F-16 fighter jet. A Greek and a Turkish military plane collided over the eastern Aegean Sea, south of the Greek island of Carpathos.[AFP]


Greek government spokesman Evangelos Antonaros said it appeared the incident occurred as the Greek plane was intercepting the Turkish jet. Greek and Turkish fighter planes frequently intercept each other over the sea, mostly in areas of disputed airspace.

Greece says its national airspace extends to 10 miles, but Turkey recognizes only six miles ¡ª the same distance as territorial waters.

The Greek Defense Ministry said a Greek F-16 collided with a Turkish R-F4 jet, about 12 miles south of Karpathos in the eastern Aegean Sea. The Greek jet was based at Souda Air Force base on the island of Crete.

The Turkish Foreign Ministry and military did not immediately confirm the incident.

Long-standing disputes over airspace and territorial rights in the Aegean have nearly led to three wars between the NATO allies since 1974.

Relations between Greece and Turkey have been steadily deteriorating in recent months, despite Athens' promotion of Ankara's candidacy for European Union membership and Greek Prime Minister Costas Caramanalis' personal friendship with Turkish Premier Recep Tayyip Erdogan.