Montenegro votes to secede from Serbia
(AP)
Updated: 2006-05-22 19:20
Montenegro voted by a slim margin to secede from Serbia and form a separate nation, erasing the last vestiges of the former Yugoslavia, according to the results Monday of its referendum.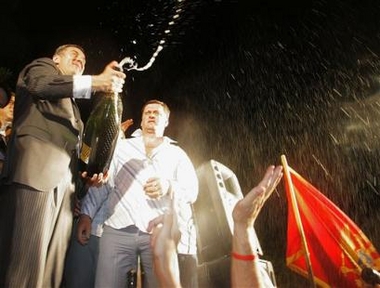 Montenegro Prime Minister Milo Djukanovic sprays champagne in jubilation in front of the government office in Podgorica, Serbia-Montenegro, late Sunday, May 21, 2006, after independent monitoring group said Montenegro voted for independence in a referendum. [AP]
With nearly all ballots counted, 55.4 percent of voters chose to dissolve Montenegro's 88-year union with its much larger and sometimes overbearing Balkan neighbor. That is just over the 55 percent threshold needed to validate Sunday's referendum under rules set by the European Union.
Hours before the official results were announced, independence supporters flooded streets of the capital Podgorica and other towns, even though their victory did not appear at all certain at that point.
"I congratulate you on your state," said the pro-independence prime minister, Milo Djukanovic. "Today, the citizens of Montenegro voted to restore their statehood."
In Podgorica, people fired celebratory shots in the air and drove up and down the main street, honking and waving the eagle-emblazoned flag used when Montenegro last enjoyed independence, from 1878-1918.
In Belgrade, the Serbian capital, officials urged calm. Ethnic Serbs make up 30 percent of the population and many strongly oppose separation from Serbia. Serbia did not want separation, but has said it will respect the decision.
The Serbia-Montenegro union is the last shred of the federation of Yugoslavia that began its blood-drenched breakup in the early 1990s. Both former Yugoslav republics are largely Orthodox Christian, and share the same language and traditions.