Former Federal Reserve Chairman Alan Greenspan said Thursday that Americans' consumption could taper off somewhat now that the U.S. housing market's "extraordinary boom" has ended.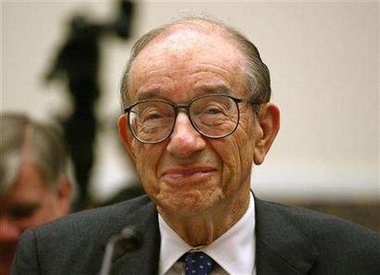 Former U.S. Federal Reserve Chairman Alan Greenspan testifies on Capitol Hill in Washington in this November 3, 2005 file photo. Greenspan said on Thursday that the 'extraordinary' boom in the U.S. housing market in recent years is over. [Reuters]
Greenspan, in his first public U.S. speech since retiring in January from a storied tenure leading the Fed, predicted there is no danger of a total collapse of the housing market.
His comments come on speculation the Fed could pause its cycle of rate hikes as a housing slowdown feeds a cooling of the U.S. economy.
"This has been quite an extraordinary boom," Greenspan said in remarks at the Bond Market Association's 30th anniversary dinner in New York. "Home sales are off, applications are off, everything is going in the same direction. The boom is over, and you can say that with a fairly strong degree of confidence."
Greenspan said he doesn't see home prices falling on a national basis, but instead in certain areas of the country. He warned reduced access of Americans to equity loan extraction would have an economic impact, which has had an "important effect" in stimulating the economy.
The housing market has been one of the economy's biggest economic drivers, racking up record-high sales five years in a row. Rapid appreciation in home prices has helped power consumer spending, boosting the economy.
Federal Reserve officials, including current Chairman Ben Bernanke came out swinging Thursday in a series of speeches to assuage inflation fears. The Fed, which boosted rates last week for the 16th straight time to 5 percent, has left its options open in terms of future rate decisions.
Greenspan cautioned that it was too early to determine how skyrocketing energy prices will affect consumer spending or lead to inflation. He pointed out that non-financial and non-energy company profit margins were not being suppressed by higher energy costs, and that higher prices at the pump weren't dramatically curtailing driving habits.
"One out of 7 barrels of world oil consumption is consumed on American highways," he said. "People apparently don't change the amount of mileage they drive, they change the vehicles they drive. That of course creates lower consumption ... it eats into purchasing power of other things."
His comments come as Wall Street was spooked by inflation worries after a jump in energy costs pushed U.S. consumer prices up sharply last month, according to a government report. Concerns that rising inflation would send rates higher sent the stock market sharply lower Wednesday.
Greenspan also weighed in on Social Security reform, a subject he knows well after leading a commission named after him in the late 1980s for President Ronald Reagan and Democratic Speaker of the House Tip O'Neil. He believes the funding shortage for Social Security "will get resolved," but identified the real fiscal problem facing the federal government as Medicare.
The former U.S. central bank chief said there is a strong probability the government will not be able to fulfill its promises to those tapping the retirement health-care program after the Baby Boom generation. This could trigger both higher debt and interest rates, he said.
"We probably at this stage under existing law have already committed ourselves to a probability which already is uncomfortable," he said. "It's an obligation of government to promise only what government can deliver."
He called the problem a "political" dilemma, and one that can be fixed while avoiding a crisis. With that, Greenspan said he had no intention of leading another commission to delve into the problem.