Former Beatle Paul McCartney could lose up to a quarter of his estimated $1.56-billion fortune after separating from his second wife Heather Mills, legal experts said on Thursday.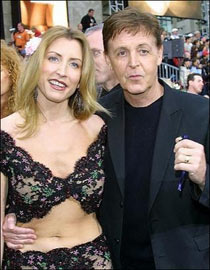 British pop-star Paul McCartney and Heather Mills pose for photographers in March 2002. The former Beatle could lose up to a quarter of his estimated US$1.56-billion fortune after separating from his second wife, legal experts said on Thursday. [AFP]
That would equate to roughly US$1.9 million for every week of their short-lived four-year marriage.
McCartney, 63, and former model Mills, 38, announced their separation on Wednesday, blaming media intrusion for the collapse of one of the most high profile showbusiness marriages.
Lawyers believe the divorce would never be allowed to degenerate into a messy court case but they said McCartney's decision not to seal a pre-nuptial deal could cost him dear in a private settlement.
The couple, who have a two-year-old daughter, Beatrice, met in 1999 at a charity event, a year after the death from breast cancer of McCartney's first wife Linda Eastman.
Lawyer Mark Stephens of Finers, Stephens and Innocent told Reuters: "Heather and the child need to be looked after financially. I think you are looking at 150 million to 200 million pounds ($283-377 million)."
"She is the child of a Beatle and they have to live in a cosseted and protected environment," he said, recalling the killing of John Lennon by a crazed fan and the attempt on the life of George Harrison.
Independent legal estimates on how much Heather could get are based on a recent high profile divorce dispute between fund manager Alan Miller and his wife Melissa.
She was awarded five million pounds of his 20 million pound fortune after a childless marriage that lasted less than three years. The House of Lords, Britain's highest court, is to make a final ruling on the case next week.
After their separation was announced, McCartney denied that Heather had ever been attracted to his fortune, estimated by the Sunday Times Rich List at 825 million pounds ($1.56 billion).
"It's been suggested that she married me for the money," he said. "There is not an ounce of truth in this."
In an interview before her marriage, Mills said she had offered to sign a pre-nuptial agreement but McCartney had turned down the offer.
"The acid test is now," said Stephen Foster, head of the divorce department at Stewarts. "I think it would be a big award. I wouldn't be shocked if it is 100 million pounds."
"He famously didn't sign a pre-nup as he said it was unromantic. If they don't resolve things amicably and it becomes a protracted court case, that could be a very expensive decision," he said.
"If Paul and Heather had any sense -- and I am sure they do --- they would both seek top quality independent advice from lawyers and accountants and settle this round a table. Is it in anyone's interest to be front page news for a year?"