The death toll in a criminal gang offensive that has terrorized Sao Paulo soared to 133 after a fourth night of attacks and the discovery of bodies at a prison.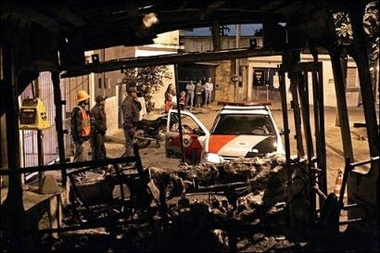 Police keep watch near a municipal bus burnt down by unidentified attackers at Jardim Tremembe neighborhood, northern outskirts of Sao Paulo, Brazil. The death toll in a criminal gang offensive that has terrorized Sao Paulo soared to 133 after a fourth night of attacks and the discovery of bodies at a prison. [AFP]
Sao Paulo, South America's biggest city and Brazil's business center, has been gripped by fear since Friday as the gang attacked police, burned banks and buses, and set off widespread rioting in prisons.
Commerce dropped by 90 percent in Sao Paulo on Monday, according to a business group. Bus service ground to a halt.
Since Friday, at least 40 police officers, 71 suspected assailants and four passersby have been killed in some 250 reported attacks. In addition, bodies of 18 inmates were found in a prison.
Residents cautiously began returning to work Tuesday and bus service was restored, albeit with police protection.
Two more buses were attacked Tuesday, although police were not clear whether gang members were responsible.
The rest of the violence has been blamed on First Capital Command, known by its Portuguese initials PCC, the largest criminal gang in Sao Paulo state. It has a massive base in prisons.
The PCC launched the attacks on police Friday in retaliation for the transfer of its members to maximum-security prisons, authorities said.
Police said gang leaders used cell phones from inside the prisons to direct the unrest.
Order was restored in 73 prisons hit by gang-launched uprisings late Monday, after prison officials negotiated the release of 195 hostages late Monday.
Local media reported that jailed PCC leader Marcos Cacho, known as "Marcola," had met government officials in prison to reach a negotiated settlement, but officials denied negotiations had taken place.
"There has been no dialogue with the (gang) leaders to find an accord," state Governor Claudio Lembo said.
The head of the prison system, Nagashi Furukawa, told reporters Tuesday that he had allowed a lawyer to visit Marcola on Sunday and report that the gang leader had not been harmed.
In return the criminals on the street "sought to stop what they were doing," he said.
Police chief Marco Desgualdo also denied that an agreement was reached with the gang.
"You can't have agreements with criminals," he said, assuring that the bloody offensive was moving toward "stabilization" and "neutralization".
Sao Paulo residents cautiously returned to work Tuesday, although the megalopolis lacked its usual bustle.
Offices were deserted Monday when workers left early fearing rumors spread via e-mail of an imminent gang attack. Several schools and universities remained closed Tuesday.
On Monday, bus service ground to a halt and restaurants and shops also shut down after the gang attacked civilian targets, torching scores of buses and hurling Molotov cocktails at banks.
"People are scared, and those who could avoid work did not go," said a bus company employee.
"The gangsters do what they want, you would think this is Iraq," said Bety, an east Sao Paulo resident. "It's terrifying."
The PCC first emerged in prisons in the 1990s and was responsible for uprisings in 20 penitentiaries in February 2001. In November 2003, it launched attacks on security forces that left 11 officers and seven gang members dead.