Russia and China will not vote for the use of force in resolving the Iranian nuclear dispute, Russian Foreign Minister Sergey Lavrov said Tuesday in a sign of persisting differences with the US.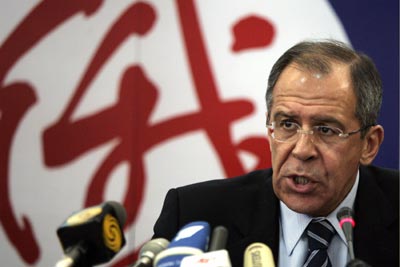 Russian Foreign Minister Sergei Lavrov answers a question during a news conference in Beijing May 16, 2006. Lavrov said negotiation was the key to solving the Iran nuclear stand-off with the West and said neither Moscow nor Beijing would support a UN resolution that is an "excuse" for force. [Reuters]
After two days of talks with his Chinese counterpart, Lavrov said Moscow and Beijing hold identical positions on Iran's nuclear program and a separate one by North Korea: Both disputes require diplomacy, not force.
In an outreach to Tehran, Lavrov also said that Iranian President Mahmoud Ahmadinejad will attend a summit meeting next month in Shanghai of leaders from Russia, China and four Central Asian nations.
"We cannot isolate Iran or exert pressure on it. Far from resolving this issue of proliferation, it will make it more urgent," Lavrov told reporters. "Russia and China will not vote for the use of force in resolving this issue."
Chinese Foreign Ministry spokesman Liu Jianchao, at a separate briefing, also urged more energetic efforts to restart negotiations. "We believe that at the current stage relevant parties should make active gestures to launch a new round of diplomacy," Liu said.
Russia and China's preference for talks underscores the difficulties world powers are having in forging a common stand against Iran.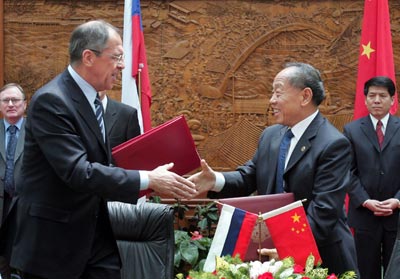 Visiting Russian Foreign Minister Sergei Lavrov (L) shakes hands with his Chinese counterpart Li Zhaoxing (R) after signing documents following their meeting in Beijing, May 16, 2006. The foreign ministers of Russia and China met in Beijing on Tuesday where how to resolve the standoff over Iran's nuclear programme is likely to be high on the agenda. [Reuters]
Last week, key UN Security Council members agreed to postpone a resolution that 0ould have delivered an ultimatum to Tehran, giving Iran another two weeks to reevaluate its insistence on developing its uranium enrichment capabilities.
The Chinese and Russians, who have veto power in the council, balked at British, French and US efforts to put the resolution under Chapter 7 of the UN Charter. Such a move would declare Iran a threat to international peace and security and set the stage for further measures if Tehran refuses to suspend its uranium enrichment operations. Those measures could range from breaking diplomatic relations to economic sanctions and military action.
The Security Council is awaiting a report on Iran's program from the UN's International Atomic Energy Agency. The European Union, in the latest diplomatic initiative, offered Iran economic incentives to stop enriching uranium.
Lavrov and Liu each expressed regret that Iran wasn't doing enough to respond to the concerns of the international community. Liu said China supported the latest EU effort and suggested that Iran fully consider the European proposal.
"China appreciates the active and important gesture of the EU to solve the Iranian nuclear question through dialogue," Liu said.