Witnesses appear in Saddam trial
(AP)
Updated: 2006-05-16 20:04
The defense presented witnesses Tuesday in the trial of Saddam Hussein and former members of his regime, a day after the judge formally charged them with crimes against humanity that carry the possibility of the death penalty.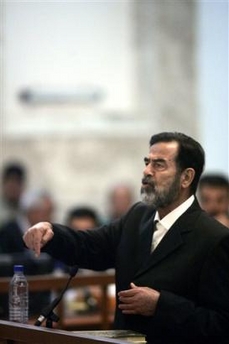 Former Iraqi President Saddam Hussein testifies after chief judge Raouf Abdel-Rahman read to him his charges during his trial in Baghdad's heavily fortified Green Zone, Monday May 15, 2006 in Baghdad, Iraq. The chief judge formally charged Saddam Hussein on Monday with murder, torture of women and children and the illegal arrest of 399 people in a crackdown against Shiites in the 1980s, bringing the trial of the ousted Iraqi leader into a new phase. [AP]
Only three lower-level defendants were in court ! Abdullah Kazim al-Ruwayyid, his son, Mizhar, and Mohammed Azzawi ! as the first witness took the stand, testifying from behind a curtain to protect his identity.
Under the Iraqi system, the announcement of charges against Saddam and his seven co-defendants effectively puts the burden of proof on the defense to dismiss the accusations, bringing the seven-month-old trial to a new, intense level.
The charges represent the accusations that the panel of five judges believe that the evidence so far has supported. Chief judge Raouf Abdel-Rahman read the charges Monday after months of hearing prosecution witnesses describe torture at the hands of Saddam's intelligence agents and documents allegedly tying the Iraqi leader to a crackdown against Shiites in the town of Dujail in the 1980s.
Calling Saddam before him Monday, Abdel-Rahman accused him of "crimes against humanity" by ordering a "systematic, wide-scale attack" on Dujail ! including the killings of women and children, torture and the imprisonment of 399 people. He read similar charges against each of the remaining defendants.
Intelligence and security forces swept up hundreds of Dujail residents following a 1982 assassination attempt on Saddam in the town. Abdel-Rahman listed the names of 17 people ! including women and children ! out of some 46 that prosecutors say died in prison or from torture during interrogation.