A terror suspect accused of involvement in the 2005 bombings on Indonesia's Bali island renounced on Tuesday statements given to interrogators, saying he made them because he feared being tortured.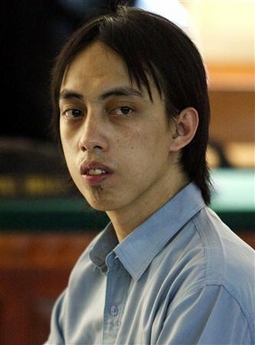 Muhammad Cholily, a terror suspect accused of involvement in the 2005 Bali bombing, sits in a courtroom during his trial in Denpasar, Bali on May 16, 2006. [Reuters]
However, Muhammad Cholily admitted to traveling with two of Asia's most wanted fugitives and learning how to make bombs from them.
Cholily is one of four Islamic militants on trial since last week over allegations they played a part in suicide bombings that killed 20 people in Bali last year.
They all could face the death penalty if convicted over the blasts that ripped through three popular tourist restaurants.
Cholily, in a letter read by his lawyer, said he did not know he once carried bombs used in the attacks, contrary to the prosecution dossier against him, which says he admitted being aware of what he was doing.
Cholily is accused of helping assemble the bombs used in the October 1, 2005, attacks.
"Why did that statement reach the dossier? It is because I was afraid things like... having my testicles crushed, my genitalia struck and kicked... facing threats of sodomy, electrocution and being shot with a pistol in the mouth... would be repeated," said Cholily in the letter.
Defendants in other trials under Indonesian anti-terrorism laws have made similar charges of police torture. Police say torture is not part of their interrogation methods.
The letter, titled "Seven Days in Terror" in an apparent reference to the period during which he was questioned, did not explicitly say when or whether the feared acts of torture had actually occurred.
He also said the fear came when grilled by anti-terror police from Java island where he was arrested, not from the police in Bali, where he is now being held and tried.
"The police behavior here has been humane," he said.
However, Cholily admitted he travelled with alleged bombing masterminds Azahari bin Husin and Noordin Top before the blasts and saw them as mentors.
"What's wrong with learning how to make bombs (or) staying in one room with them?" Cholily told reporters.
Police say Azahari and Top, both Malaysian nationals, were leading figures in the al Qaeda-linked Southeast Asian network Jemaah Islamiah, blamed for terror attacks in the region including bombings in Bali in 2002 that killed 202 people.
Azahari, who often travelled with Top, was killed last year during a shoot-out near the East Java city of Malang.
Last month, Indonesian police killed two militant suspects at Top's suspected hideout in the Central Java town of Wonosobo, but failed to capture him.