President Bush said Monday night he will send as many as 6,000 National Guard troops to the U.S. border with Mexico to help stop the flood of illegal immigrants, part of an administration drive to win conservative support in Congress for an election-year overhaul of the nation's tattered immigration laws.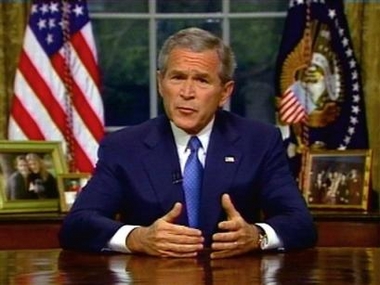 In this video image taken from AP Television News, President Bush delivers a speech on immigration broadcast on television from the Oval Office, Monday May 15, 2006 in Washington. [AP]
"We do not yet have full control of the border and I am determined to change that," the president said in a prime-time address from the Oval Office.
Bush gave strong support to a plan that would give many of the 12 million illegal immigrants in the United States an eventual chance of citizenship ¡ª a move derided by some conservatives as amnesty. He rejected that term.
"It is neither wise nor realistic to round up millions of people, many with deep roots in the United States and send them across the border," he said. "There is a rational middle ground between granting an automatic path to citizenship for every illegal immigrant and a program of mass deportation."
The Guard troops would mostly serve two-week stints before rotating out of the assignment, so keeping the force level at 6,000 over the course of a year could require up to 156,000 troops.
Still, Bush insisted, "The United States is not going to militarize the southern border."
The president timed his speech hours after the Senate began intense debate on an election-year immigration bill. The rare televised, prime-time Oval Office address signified the high stakes for Bush, who has been asking for immigration overhaul since his the 2000 campaign.
Bush said the National Guard troops would fill in temporarily while the nation's Border Patrol force is expanded. He asked Congress to add 6,000 more Border Patrol agents by the end of his presidency and to add 6,700 more beds to detain illegal immigrants while they are waiting for hearings to determine that they can be sent home.
The Border Patrol would still be responsible for catching and detaining illegal immigrants, with National Guard troops providing intelligence gathering, surveillance and other administrative support. Yet the National Guard troops would still be armed and authorized to use force to protect themselves, said Bush homeland security adviser Fran Townsend.
They are to come from the four border states ¡ª California, Arizona, New Mexico and Texas ¡ª but those states' governors may also seek Guard troops from other states. Reaction was mixed among the nation's governors.
Democrat Ted Kulongoski of Oregon said Guardsmen signed up to fight the war on terror, not to "go and sit on the border of Mexico." And with fire season approaching, he said, "I need our remaining National Guard soldiers to stay in Oregon to protect our forests."
But Alabama Gov. Bob Riley, a Republican, strongly supported the plan. He said, "If we'd done this years ago, we'd have put a stop to illegal immigration."
Governors would have the option of refusing to send troops, but White House officials said they did not expect that would be a major issue since the federal government would be paying the costs. Border state governors would have control over all National Guard troops working in their states.
The White House wouldn't say how much the deployments would cost, but said the troops would paid for as part of $1.9 billion being requested from Congress to supplement border enforcement this year.
The White House hopes deployments to the border will begin in early June.
Many congressional Republicans said they support Bush's plan to use National Guard troops at the border. But he ran into criticism from Democrats and some other Republicans.
"The National Guard already is stretched to the limit by repeated tours in Iraq and Afghanistan, as well as from providing disaster assistance in their own states," said Sen. Edward M. Kennedy (news, bio, voting record), D-Mass., though he commended Bush for "courage and leadership" in weighing in on the immigration debate.
Bush said the nation has more than doubled the size of the Border Patrol during his presidency and has sent home about 6 million people entering the United States illegally. Still, he said, that has not been enough.
"For decades, the United States has not been in complete control of its borders," the president said. "As a result, many who want to work in our economy have been able to sneak across our border, and millions have stayed."
He called for enactment of a guest worker program to allow immigrants to take low-paying jobs, and he said employers must be held to account for hiring illegal immigrants. He said that a tamperproof identification card for workers would "leave employers with no excuse" for violating the law.
And he stressed that those who want to earn citizenship should have to assimilate into society, learn English, pay fines for breaking the law and pay back taxes.
"What I have just described is not amnesty," Bush said. "It is a way for those who have broken the law to pay their debt to society and demonstrate the character that makes a good citizen."
The president's call for tougher border security is part of a broader plan to overhaul a system that he has described as inhumane, with desperate foreigners risking their lives for a chance to earn U.S. wages. The issue raises emotions on all sides, with many Americans and influential conservatives in Congress angry that foreigners are taking jobs and draining resources across the country.
The White House hopes that the tougher security will be enough to get House conservatives to support the work permits and citizenship proposals that they have been opposed to. A bill that passed the House last year ignored those ideas and instead would increase criminal penalties for illegal immigrants and construct 700 miles of fencing.
Conservative Republican Sen. Jeff Sessions (news, bio, voting record) of Alabama said sending the National Guard to increase border security would indicate Bush "gets it" and would be helpful in allaying concerns of members who oppose Senate legislation that focuses on guest workers and potential citizenship.
He said enforcement "can't be a token effort," just a few raids of businesses or a short-term increase of the National Guard at the border.
"The president has got to look the American people in the eye and he's got to tell them from his heart that he actually means to have a legal immigration system, that he's prepared to ask the Congress for the resources he needs to make that happen," Sessions said.